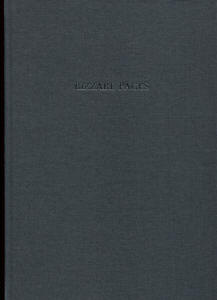 Bizzare Pages

Private publishing (A Talking Asshole Production sponsored by coffee and smoke)


2016
ISBN -
730 + 740 pp, hardcover, 30 x 21,5 cm
English
---
As a sequel to Joe's Literage, in Zappanale festival 2016 another two-volume hardcover pre-ordered book was handed to customers. Bizzare Pages are nearly the same as the Joe´s Literage books, but instead of texts contained scans of the newspapers and magazines.
Privately published book in two volumes, containing articles on and interviews with Frank Zappa. The first volume covers years 1962-1979 in 730 pages, the second volume years 1980-1993 in 740 pages.
Both volumes are in hardcover binding, A4 format, up to 5 kilo together.
Bizzare Pages were available only as pre-order, no additional copies were made. The print-run was (probably) 20 copies.
Comment from united mutations on Bizzare Pages:
I bought a copy of these out of the shelf on Wednesday. So a reservation was not necessary for me. I was been told there, that 20 copies has been made. One other thing: It's not the same content as in the last years books. I haven't had the time for a close look but there is lots of other stuff like advertises, broschures or even the Thingfish photostory from Hustler.
Note. afka.net and Bizzare Pages are not related in any way.