---
First limited edition of 1500 numbered copies. This book is a part of commemorative boxed set There Must Be A Better Way. The set contains a lot of paraphernalia – posters, photos, programs, including September 9, 1978, Knebworth Festival program
Contains chapters about Knebworth festivals 1974-1979 and some concert tours (incl. Zappa 1974 in Europe). Several Zappa (and Captain Beefheart) references. Zappa was Freddy Bannister's "all time favourite rock musician".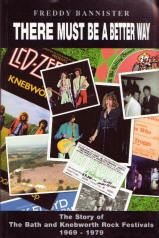 There Must Be A Better Way

Bath Books, Cambridge


2003
ISBN 0-95455-490-6
332 pp, paperback, 23,5 x 15,5 cm
English
---
2nd enhanced edition. Part 2 (Chapters 31-57) is the same as 1st edition. Added is Part 1 (Chapters 1-30) about The Pavilion Bath concerts 1963-1970, The Bath Festivals 1969-1970 and some concert tours until December 1972.
Chapter 30:
...
It was just as the band finished their last number and Frank was actually in the process of removing his guitar that I noticed a man running towards the stage from the central aisle in the stalls. Standing helpless, in stunned amazement, I watched as he cleared the orchestra pit and in a single, effortless, bound landed on stage. Without a moment's hesitation, he spun around in a graceful pirouette, which put him in an ideal position to hit Frank in the small of his back with the flat open palms of his hands. The effect was devastating. Frank was lifted off his feet, flying like some huge, ungainly bird straight into the orchestra pit. Continuing his pirouettes, the assailant leapt once more across the orchestra pit and disappeared into the audience. Not waiting to see anything else I shot down the back stairs straight onto file stage.
Herb [1] was already there peering apprehensively into the pit. Frank was lying on the concrete floor unconscious, his neck bent at an ominous angle. There was no sign of the much-promised mattresses.
...
Frank was taken to the Royal Free Hospital, which in 1971 was still situated in the Holloway Road. It was housed in a decrepit Victorian building, which did nothing to raise the expectations of the medical care available inside. When we arrived we went straight to the emergency department only to find, as it was Friday evening, the staff were rushed off their feet – in fact it was just like Bedlam. Leaving Wendy, Suzie [2] and myself in the waiting room, Herb went to find Frank.
...
I could see from Herb's face, when he returned some time later, that he was angry. It appeared that the doctor attending Frank was supercilious and patronising, in a way that only the English at their worst can be and hadn't been exactly helpful. Herb asked me to speak to him as he thought there might be a little more rapport between two Englishmen. There wasn't. The doctor was just as rude to me. Even so, he did unbend sufficiently to tell me that so far they had discovered that Frank's injuries comprised a crushed larynx, a fractured rib, a fractured leg, a paralysed arm and head injuries and although they were short of beds they would keep him in overnight for observation. Wow, I thought, the man's a saint. The following morning Herb arranged for Frank to be transferred to The London Clinic!
...

---

1. Herb – Herb Cohen, Zappa's manager,
2. Wendy – Freddy Bannister's wife, Suzie – Herb Cohen's wife