BAM
BAM Magazine
, the Bay Area Music Magazine, reported on rock, rap, hip hop, ska, blues, and jazz artists, groups, bands, shows, and clubs in both northern and southern California from 1976 to 1999. (
www.bamforever.com
)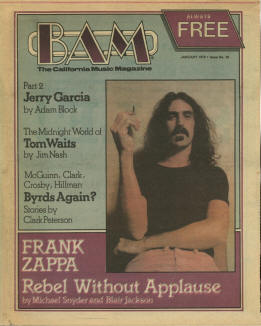 No. 26
Rebel Without Applause
Interview by Michael Snyder, story by Blair Jackson, pp 30-31, 33, 35-37
---
Frank, do you fear reprisals for having always been blatantly sexual and scatological?
No.
You don't expect to be attacked by some crazed morality play?
No.
What about Anita Bryant?
I wouldn't worry until she gets a job with the California Citrus growers. You can understand the Florida Citrus Growers as Bebe Rebozo types.
Orlando and Disney World. Don't you love to confront that back home in Southern California? Orange County? Right-wing madness?
There's right-wing madness everywhere. There's tons of it down in the lobby. What are you gonna do? Cower in the corner? Those people should go fuck themselves. (read more)
Source: slime.oofytv.set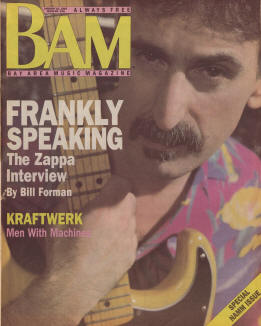 1987 January 16
Vol. 13 No. 2 Issue 249
Interview From Hell
By Bill Forman, 6 pp 16-18, 20, 22, 24
---
"Okay," he obliges, "I'm wearing a yellow shirt, I'm wearing some baggy Japanese pants, I'm wearing Reebok black tennis shoes and argyle socks which are light blue, light yellow, light pink and lavender. I'm sitting in a grey chair in my recording studio. My dog – one of my dogs, Doggus, is sleeping over in the corner. It's 11:07 at night, and I just finished a meeting with a lawyer and three people from Virgin Records. The crew has just left, and when I get finished talking with you, I'll get to work on the digital editing for a little while and then I got four more interviews that start at 4:00 in the morning." (read more)