The Baltimore Sun
Sun Magazine is the Sunday magazine of The Baltimore Sun.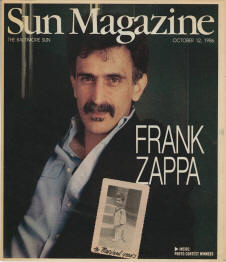 1986 October 12
Frank Zappa: The Maryland Years
By Rafael Alvarez, pp 10-11, 16, 18-22
---
IT WAS THE POSTER OF FRANK SITTING ON A TOILET BENEATH THE LEGEND "Phi Zappa Krappa" that did it.
The year was 1968, summertime, and I was a 10-year-old fifth-grader on vacation with my family in Ocean City. With long-haired, freaky hippies and psychedelic music grooving everywhere, it was hard to act hip wearing Bermuda shorts and a peach-fuzz wiffle haircut.
But the image of this strange, nearly nude man hanging from a Boardwalk souvenir shop provided yet another opportunity to jab the rock 'n' roll needle into my parents' sensibilities.
The poster — and the brush fire of scatological rumors about Zappa that grew fat and far beyond such indiscretions as being photographed on the john — went a long way in turning my head. (read more)
Source: slime.oofytv.set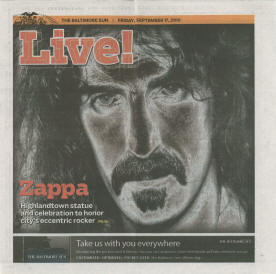 2010 September 17
Zappa Days
By Erik Maza, pp 14-15
---
At the corner of Conkling Street and Eastern Avenue in Highlandtown, a head looks over the neighborhood like a bodiless sentinel. The olive-toned, mustachioed bust takes in a colorful panorama: a pizzeria to the north and a pawnbroker to the west. Starting this weekend, when you hock that gold watch or grab a quick slice of pizza, Frank Zappa will be watching. (read more)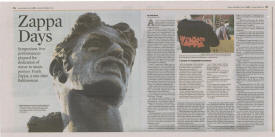 Source: slime.oofytv.set