Beat Instrumental
Established in May 1963 as
Beat Monthly
. From #18 the title was changed to
Beat Instrumental Monthly
, and abbreviated to
Beat Instrumental
from #37. Emphasizing musical instruments and equipment (it billed itself as "The World's First Group & Instrumental Magazine"),
Beat Instrumental
was among the first to publish interviews with musicians discussing their gear. The magazine also defined pop music more widely than many of its contemporaries. Later on, the magazine made seamless transitions from pop to rock and prog-rock. (B
eatBooks
)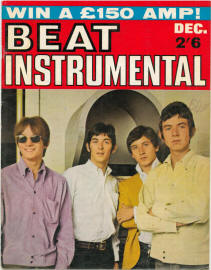 1966 December
No. 44
The 'Unbelievably Awful' Mothers of Invention
By Pete Green, p 39
---
THE guy representing the Mothers of Invention in America sent me a copy of their "freak-out", psychedelic LP and said: "These Mothers are THE current 'happening' on Sunset Strip. Their appearance is unbelievably awful. The colouring on the album cover has been diffused and the outline of their features blurred to conceal the true horror of their physical impact". (read more)
Source: slime.oofytv.set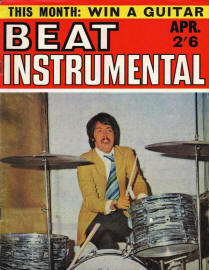 No. 48
Freak Out - Mothers Of Invention VLP 9154 (review)
By ?, p 36
---
We've heard a great deal about the American two-album version. Here in Britain we've wound up with just one album containing 11 tracks. They are well chosen and are representative of a good, double discer.
The first thing you must decide before even dropping the needle into the freaky grooves is how you are going to take the record and what you hear on it. It should be regarded as a musical form of "Batman", and the same rules of attitude exist. If you take it seriously then you won't get any enjoyment from it, and will dismiss it as rubbish. But if, on the other hand, you retain your sense of humour, you'll like it. The whole record is a deliberate send-up of the trashy American pop scene with here and there, sexual connotations and some vague, social comment.
Musically, the album is well made and free-form passages can get under your skin. There is an excellent rock guitarist featured on the album.
Side One: Hungry Freaks Daddy; I Ain't Got No Heart; Who Are The Brain Police; Motherly Love; Wowie Zowie; You Didn't Try To Call Me; I'm Not Satisfied; You're Probably Wondering Why I', Here.
Side Two: Trouble Comin' Everyday; Help. I'm A Rock; The Return Of Monster Magnet.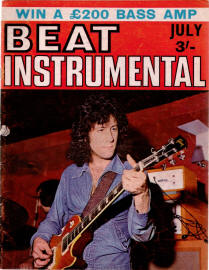 No. 75
Father Of The Mothers
By M.H., pp 26-28
---
YOU might think that Frank Zappa is a fearsome fellow from the wild hairy being in photographs, the cutting nastiness of his songs and the god-like aura that surrounds him. It's not his fault that he is regarded in this way – it's the result of the publicity and unthinking adulation of some Mothers of Invention fans. In fact, he turns out to be a friendly, mild-mannered fellow, with a cutting tongue to be sure, but he doesn't cut everything and everyone indiscriminately. (read more)
Source: slime.oofytv.set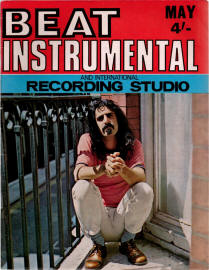 No. 85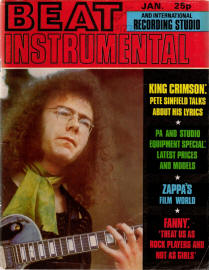 No. 105
Being Perfectly Frank
By Steve Turner, pp 22-24
---
Frank Zappa was staying at the London hotel which possesses the actual loo shown on his internationally famous poster. When I arrived at the reception area I phoned his room: "George Harrison and Friends Mortuary House", came the quick reply which at least assured me that I'd dialed the right number. It was some unscripted humour from Mark Volman and after a quick word with Frank he invited me up to the second floor. (read more)
Source: slime.oofytv.set