Billboard
Many people know
Billboard
magazine is the Bible of the Music Industry, the place to go for such essential "charts" as the Hot 100 Singles, the Billboard 200 Album Chart, and the Power Playlist from more than 30 top radio stations. But few consumers are probably aware that
Billboard
is more than 100 years old. [1894 – present] (
cBub
)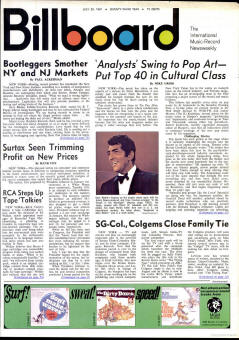 Vol. 79 No. 30
Merson's 'Invention' Radio Spot Clicking
p 3
---
Short article on page 3 and photo on page 16, related to Hagstrom guitars ad campaign. More on this campaign read at hagstromguitars.com.
---
Merson's 'Invention' Radio Spot Clicking (page 3)
NEW YORK—A radio promotion campaign by Merson Musical Products Corporation has met with thumping success, according to company officials.
The effort, in cooperation with stations WOR-FM, New York; WFIL, Philadelphia and WRKO, Boston, featured a one-minute commercial using the music of Verve Records' Mothers of Invention with a message from the group`s leader, Frank Zappa. The message invited listeners to write the station for a full-size poster of the combo and information about the Hagstrom guitar
line, which is used by the Mothers.
Post cards informed the listener that he could pick up his free poster at his nearest Hagstrom dealer, whose name and address were printed on the card.
To date, there have been some 15,000 responses, and dealers throughout the promotion program area say that many of these have become customers.
Merson vice-president Bernard Mersky said this program is the first in a series of Merson consumer-oriented promotion programs. The program was launched a few months ago and will run at least a few more months, Mersky said.
Photo on page 16
FRANK ZAPPA, leader of Verve's Mothers of Invention, is seen with Bernard Mersky, vice-president, Merson Musical Products, with whom the artist has just signed a promotion and advertising contract. Merson distributes the Unicord line of amps, guitars, combo organs and other pop musical merchandise.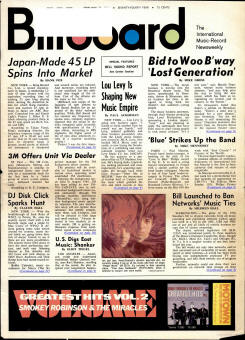 1968 February 24
Vol. 80 No. 8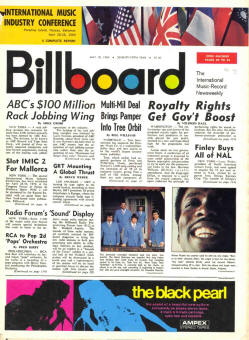 Vol. 81 No. 8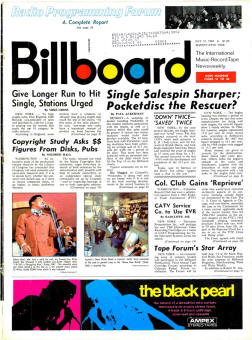 Vol. 81 No. 28
---
Frank Zappa feels that a link exists between music and art today. He spoke of the trend in modern art known as concept art, and added that some people in pop music today relate to this concept. As an illustration he played an electronic composition using sounds outside the frequency of human hearing. He also used selections from the Columbia album, "The World of Harry Partch." Partch writes music of 32 tones to the octave. Zappa also played various other examples of electronic music, including a record utilizing sound made by a gong and a balloon. Still another was a recording of electronically modified sounds of German children playing. (read more)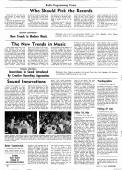 Source: americanradiohistory.com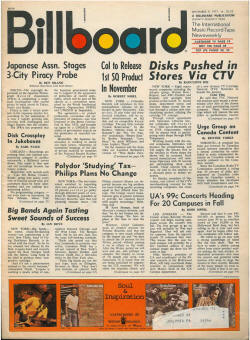 1971 September 4
---
Page 2: Zappa Suing 2 Magazines
LOS ANGELES - Frank Zappa is suing Playboy and Esquire for $4 million, changing an unauthorized likeness of the Mothers of Invention leader appeared in a psychedelic-type illustration collage for a Dexter Funky Shoes ad which ran in both magazines November, 1970.
The suit filed in Los Angeles Superior Court stated that the misleading implication Zappa was endorsing the shoes had irreparably damaged his reputation and right for privacy.
Page 53: Fillmore East - June 1971 ad.
Source: slime.oofytv.set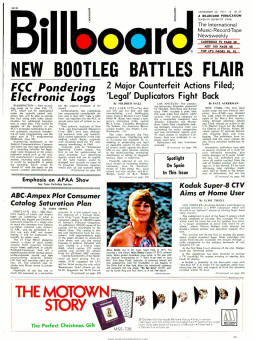 1971 November 20
Zappa's Zany Zooms Perk Stormy 'Trip'
By Ned Freedland, p8

---
Frank Zappa has finally made the movie he's been trying to get off the ground for years. "200 Motels" features the spectacularly far-out electronic visual effects possible with Technicolor's videotape-to-film Vidtronics process ... colors flowing into each other as a scene progresses and sudden dissolves of the characters into geometric forms. (read more)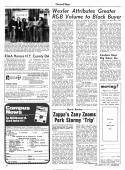 Source: americanradiohistory.com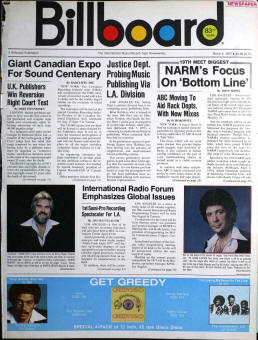 Discreet Zaps Suit Over Zappa Tapes
By John Sippel, p 23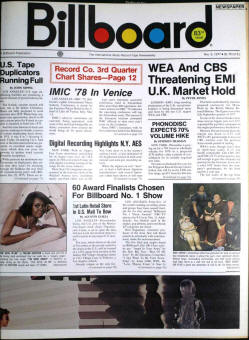 1977 November 5
Zappa Zaps WB, Discreet Over Album
By John Sippel, p 16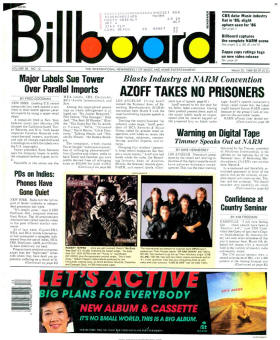 1986 March 22
Sony's Stickering Plans Come Unglued
By Jim Bessman, p 46

RIAA Rep Picks Zappa to Fight Porno Bill, But It's News to Association
By Bill Holland, pp 4, 84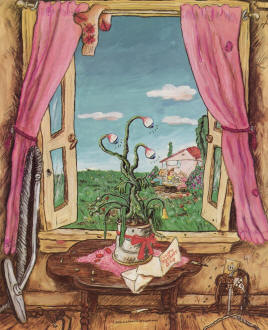 No. 36
Frank Zappa's Crusade – 25 Years And Counting
By Drew Wheeler, pp 3, 10, 13

Cucamonga Science And Beyond
By Drew Wheeler, pp 4, 14

Just Plain Folks
By Drew Wheeler, p 6

Zappa: Leading The Way In Digital & CD Technologies
By Jim Bessman, p 12

We Are What We Watch
By Drew Wheeler, p 14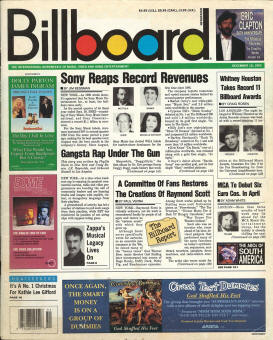 1993 December 18
Vol. 105 No. 51
Zappa, A Man Who Knew No Boundaries
By Drew Wheeler, pp 8, 131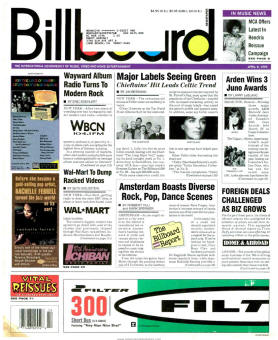 Vol. 107 No. 14