Crawdaddy!
1966-1978. A true legend among rock mags, the New York City-based
Crawdaddy!
's first 14 issues were printed on an old mimeograph machine. (...)
Crawdaddy!
differed from other magazines of its era in that it took rock 'n' roll very seriously. In its first few years, it tended to focus on politics and the radical views of the time. Each issue contained a number of music articles and interviews, as well as many ads for new albums. (
CBub
)
28 more issues of
Crawddaddy!
published 1993-2003. It is currently published only online.
1968 September
No. 18
---
Frank Zappa cartoon on the cover. No Zappa content inside.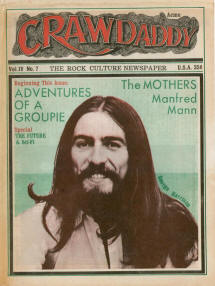 Vol. 4 No. 7
Alchemy, Hagiography & Hieroglyphics vs. The Teenage American Archetypal Theme
By Miles, pp 3, 31-32

Mothers Day With The Mothers
By Dick Lupoff, pp 3, 32
---
(1) Frank Zappa is chief Mother on the Hollywood hagiography, the conscience of the industry, the essence of West-coast pop, a rare fusion of the energies, creativity and ideas that make up the Big Beat which lives on.
Plotting in his cell, a crazed Artephius, Zappa preserves this vital energy, tends the nerve plants, stores the beauty in Canopic urns, de-fuses the explosives for later use and watches with mild dismay as fads and bubblegum music crash past his garden gate. He rarely goes out, preferring to stay in and grow the tapes, all at 15 inches per second. (read more)
Source: slime.oofytv.set