Guitarist
The original and best magazine for guitarists. Each has features on equipment and players, excellent lessons on various styles, superb reviews on equipment, technical help on maintenance and repairs. Issues from 1996 include a CD with demos, new tracks, lessons and accurate backing track of popular rock, blues, with occasional Jazz and Classical tracks thrown in. Launched in 1984. The longest running guitarist magazine in Europe.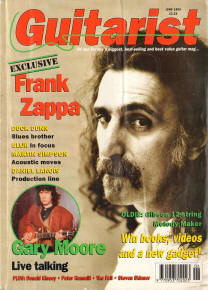 Vol. 9 No. 12
(1) Unholy mother
Interview by David Mead, pp 18-20, 22-27

(2) Three sides ...
Adrian Belew, Mike Keneally, Scott Thunes interviews by David Mead, pp 22-23
---
(1) How would you sum up your guitar style on the early Mothers recordings?
"It was okay, but back then the guitar wasn't a featured instrument in the way it was on the later albums. As far as a precedent goes... I don't think there was anything you could compare it to; it was the only was I knew how to do it. There was no reason to do it another way, and anyway, everybody else was doing it the other way!"
The rock guitar influences that are the most common are the '60s icons, players like Clapton and Hendrix...
"Yes, but when we did 'Freak Out!' and 'Absolutely Free', there wasn't any Hendrix. We met Hendrix in the summer of '67; he sat in with us at the Garrick Theatre, so we'd already made those albums before I even knew that he existed. Actually, I think my playing is probably more derived from the folk music records that I heard; middle eastern music, Indian music, stuff like that. For years I had something called 'Music On The Desert Road', which was an album with all kinds of different ethnic music from the Middle East. I used to listen to that all the time – I liked that kind of melodic feel. I listened to Indian music, Ravi Shankar and so forth, before we did the 'Freak Out!' album. The idea of creating melody from scratch based on an ostinato or single chord that doesn't change – that was the world that I felt most comfortable with. If you listen to Indian classical music, it's not just pentatonic. Some of the ragas that they use are very chromatic, all sustained over a root and a fifth that doesn't change, and by using these chromatic scales they can imply all these other kinds of harmonies. The chords don't change; it's just the listener's aspect that gets to change, based on how the melody notes are driven against the ground bass." (read more)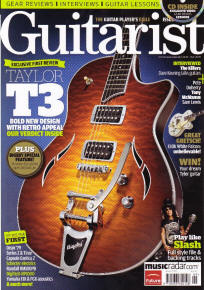 Issue 315
---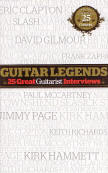 To mark the 25th birthday of Guitarist magazine (launched in June 1984) Guitar Legends – a compendium of 25 favourite interviews was produced and bagged with this month's issue for free. The book includes excerpts of Frank Zappa interview from June 1993 issue.
No other Zappa content inside.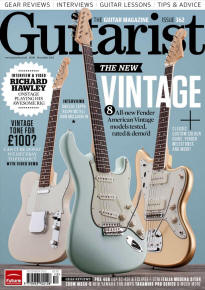 2012 December
Issue 362
The Band From Utopia
By Jamie Dickson, pp 54-56, 58

Frank Zappa Style File
By Adrian Clark, pp 60-61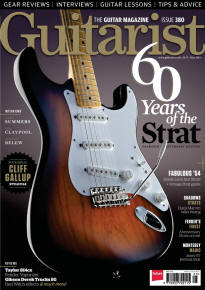 Issue 380
Adrian Belew
By Jamie Dickson, pp 64-66, 68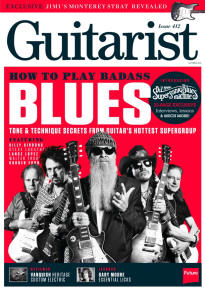 Issue 412
Mike Keneally
By David Mead, pp 56-58