In
"The magazine that shows to you how to be in". 60s teen magazine for girls.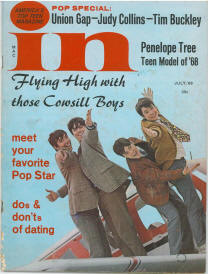 Vol. 5 No. 11
Pop Goes July
By Bob Arnold, pp 52-53
---
Small photo of Zappa on page 53. Article about Tim Buckley on pages 38-39.
Frank Zappa of The Mothers of Invention was recently voted "Ultimate Mad Genius" in a private poll of rock musicians, music critics and record producers. In case you haven't seen it yet, be sure to catch a look at the inside jacket cover of the Mothers' latest album, We're Only In It For The Money. It's a very funny take-off on The Beatles' Sgt. Pepper cover.
Source: slime.oofytv.set