Los Angeles Times
Daily newspaper published since 1881.

1966 August 7
Popular Records: Pass Aspirin, Please
By Pete Johnson, 1 p
---
The Mothers of Invention, a talented but warped quintet, have fathered an album poetically titled 'Freak Out' (Verve V-5005-2) which could be the greatest stimulus to the aspirin industry since the income tax. (read more)

This clipping is from Freak Out! The Official News of The M.O.I. , a 4-page paid advertisement in Los Angeles Free Press.
Source: Los Angeles Free Press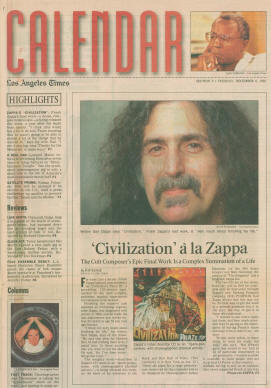 1994 December 6
'Civilization' à la Zappa
By Rip Rense, pp F1, F3
---
The same article with some revisions was published by The Milwaukee Journal in December 18. Read the full text.

Source: slime.oofytv.set