Music Connection
Music Connection, "the alternative music trade publication," is issued since 1977.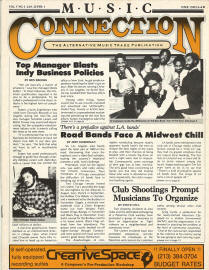 1981 January 23 - February 4
Vol. 5 No. 2
Zappa's New Album Spoofs Local Scene
By Headley Gritter, p 11

---
The irrepressible Frank Zappa is about to launch his next tirade at the unprotected underbelly of the music industry. At his recent Santa Monica Civic performances he unveiled a few of the dittys to grace his upcoming album – due for release in early March. (read more)
Source: slime.oofytv.set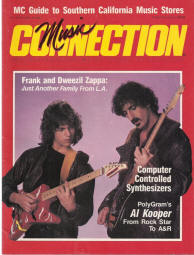 1984 January 19
Vol. 8 No. 2
Approaching the Mellow Age
By Jeff Silberman, pp 12-13, 24

Dweezil: Rocking Out Of His Father's Shadow
By Jeff Silberman, pp 13, 19

---
Nestled in the hills of Laurel Canyon, a state of the art digital studio is camouflaged behind the garage of a dignified, if relatively unspectacular residence. There, in the privacy of his own home, Frank Zappa spends most of his waking hours creating anything his fertile mind desires.
Frank Zappa earned such freedom doing it his own way. From the mid-60s through the entire decade of the 70s, he carved a unique niche as a cult rock antihero. Using a rock foundation, he composed diatribes that lampooned both the establishment and the counter-culture. No one was sacred from his pointed lyrical barbs. He also had a special taste for, shall we say, sexually offbeat material. Although his lyrical perverseness repulsed many in the critical community, it nevertheless attracted a sizable audience. (Of course, Zappa could care less what the critics thought.) (read more)
Source: slime.oofytv.set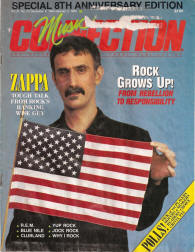 1985 December 09
Vol. 9 No. 25
Zapping Back At Big Brother & Other Mothers
By Roy Trakin, pp 17-18, 20

Did Frank Forget How To Freak Out?
By Steve Hochman, p 19

---
MC: Are you tired of talking about the lyrics controversy?
Zappa: I was tired the first day. The fact of the matter is the amount of accurate information that manages to squeak through the media is very small. And if I didn't do these interviews, people wouldn't know what's going on. The newspapers don't cover it right, and neither does TV.
MC: Hasn't the issue been blown out of all proportion by the media?
Zappa: TV picked up on the story because they could illustrate it with rock videos. It had everything: sex, violence, devil worship. If it weren't for the availability of music videos, I doubt the issue would have gotten the kind of coverage it did. But remember: The original complaint was about words, not images. When the PMRC took over the debate from the PTA, it was broadened to include the visual. And reference to live concerts. To understand the truth, go back to the first PMRC press release. One of the main things that they were concerned about was that these songs "cause rebellion." That was a little item which was dropped from their rhetoric during the ensuing months. (read more)
Source: slime.oofytv.set