New Musical Express
The
New Musical Express
(better known as the
NME
) is a weekly music magazine in the UK. Its focus is on guitar-based music and indie rock bands, and it is often credited as the starting point for many successful British bands. It was also responsible for the first UK Singles Chart. (...) In 2003 the magazine became the biggest selling music weekly in the UK, a position that it still holds. (
www.answers.com
)
UK-based, the biggest-selling weekly music magazine in the world. Presents music news around the clock, reviews from around the world, interviews, and a concert guide. (
world-newspapers
)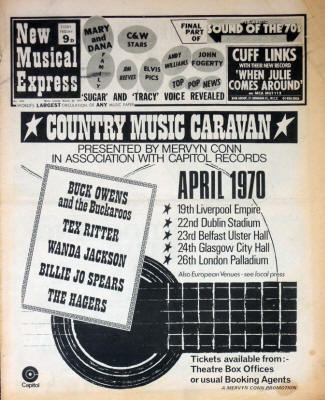 1970 March 28
Zappa Leads Way From 60's To 70's
By Allan McDougall, p 12
Zappa - Outrageous Star
By Allan McDougall, p 11
---
I WORKED for Frank Zappa's Straight Records in Hollywood recently. And the first time we met – after his manager/partner Herb Cohen had hired me as national promotion manager for Straight – Zappa and I had a huge argument – about love! (read more)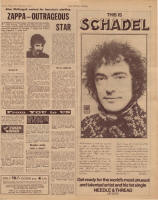 1971 January 16
Establishment Versus The Underground
By Richard Green, pp 14-15

---
THE oversexed industrial vacuum cleaner, the voluptuous dance of the newts when they escape from the newt ranch and get into the concentration camp where the orchestra lives, the fake groupie house and the rancid boutique. Plus songs with titles like "This Town Is A Sealed Tuna Sandwich" and a 90-piece orchestra thrown in for good measure.
All of which adds up (as if you hadn't guessed) to some of the incredible goings-on involved in Frank Zappa's movie "200 Motels." Pinewood Studios, where shooting begins in early February, are never likely to recover from the onslaught of the eccentric genius and his cohorts in the world of unpredictability.
After many years of suggesting, planning, hinting, stating, but never quite revealing, Zappa at last decided to hold a Press conference on Monday to calm puzzled minds for once and all. (read more)
Source: Javier Marcote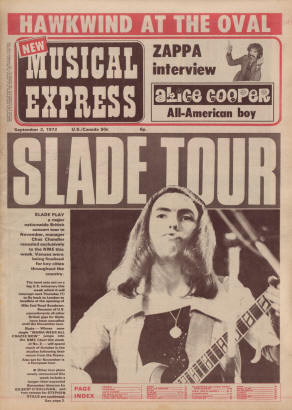 1972 September 2
Fearless Frank tells what he'll lay on you at the Oval concert
By Danny Holloway, pp 20, 29

Everything you always wanted to know about the Mothers...
By Ian McDonald, p 29

plus album reviews by Charles Shaar Murray - Waka/Jawaka, Zapped, Uncle Meat.
p 20
---
DANNY HOLLOWAY: What were you doing after the time of your accident?
FRANK ZAPPA: I spent a month in the hospital with a cast on my leg in a wheel chair. Then I spent a lot of time hobbling around on crutches before they replaced the cast with a leg brace. I'm still wearing the brace and just recently I've been able to walk around without using the crutches so much. "Waka/Jawaka" was made in the studio while I was still in the wheel chair.
What group will you be bringing to England?
It's a group you've never seen before – 20 pieces including six reeds, six
brass, two concert percussionists, one drum set, one electric bass, two guitars,
keyboard and synthesizers, and an electric cello. It's really nice. The only
names people will recognise from past associations will be Ian Underwood on
keyboard and Ruth Underwood playing percussion one. Most of the people who are on the "Waka/Jawaka" album are in this group. We'll probably be billed as The Mothers. As far as recording goes, the next album will feature performances by the big band.
What songs will your repertoire feature?
We have an advanced arrangement of "Big Swifty" from the "Waka/Jawaka"
album which we'll be playing. As far as older, better-known material goes, we'll
be doing "Penis Dimension", "Dog Breath Variations", "Uncle Meat" and "Revised Music For A Low Budget Symphony Orchestra".
What we really have here is an electric symphony orchestra. Aside from the
recognisable pieces which are rock-oriented, there are two or three
semi-symphonic-type pieces, which are of a humorous nature simply because of the subject matter. But we're not going to have people jumping around on stage or falling down with tambourines and saying zany stuff – we're not supplying that this season. (read more)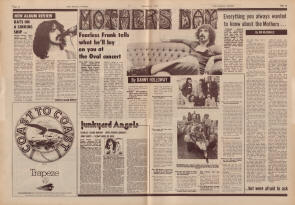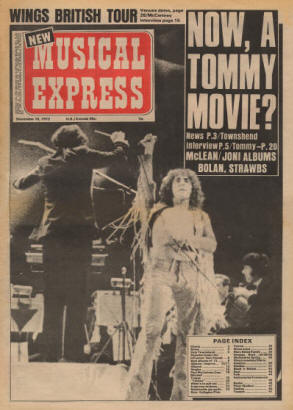 1972 September 16
Zapped At The Oval
By Nick Kent, p 23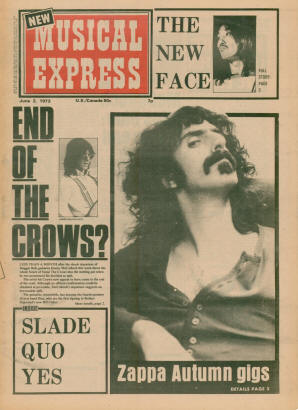 Zappa here for gigs in September
By Derek Johnson, p 3
---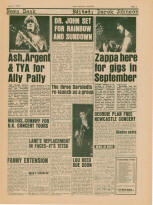 FRANK ZAPPA is returning to Britain in September, as part of a full-scale European tour. He will be bringing with him the latest Mothers of Invention line-up, a ten-piece band with whom he recently appeared in concert in New York. Dates and venues are at present being finalised by promoter Frederick Bannister, both for this country and Europe.
Bannister told the NME: "I have set up a deal with Zappa's manager, Herb Cohen, and I can confirm that the European tour is definite. What I don't know yet is exactly what he will be doing in this country. There will certainly be a major concert in London, but there is also the possibility of another date or dates here."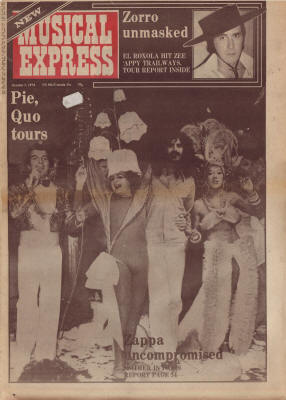 1974 October 5
Relax, Frank. We ain't no liggers. A few of us just came to join in ...
By Charles Shaar Murray, pp 34-35, 54
---
CHARLES SHAAR MURRAY on the campaign trail with FZ and the Folies Bizarre (i.e., the MOTHERS in Paris)
WHY IS Stephen Stills not smiling? To be more precise, why are those noble, rugged features sporting an expression roughly equivalent to that of a man whose ankles are being attacked by a flotilla of evil-minded piranhas? Why, for that matter, is he wearing a green velvet jacket? (read more)
---
Same event in Melody Maker – Monsieur Zappa's rock circus by Allan Jones.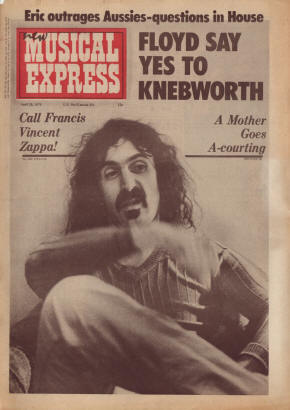 1975 April 26
'What is a groupie?' asked his Lordship...
By Mick Farren, pp 28-29
---
Mothers albums nestle amongst the legal papers. A stereo system has been set up in front of The judge. The scene is Law Court Seven. The topic: The Suppository Principle Of Culture. Adjacent matters of interest: dog continuity, The Groupie Papers, and the magnetic deviation of San Clemente. Kids – be upstanding for Uncle Frank...
(full text available @ Rocksbackpages)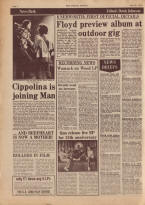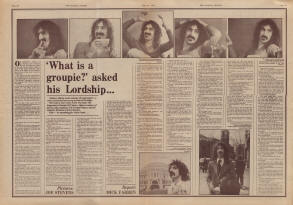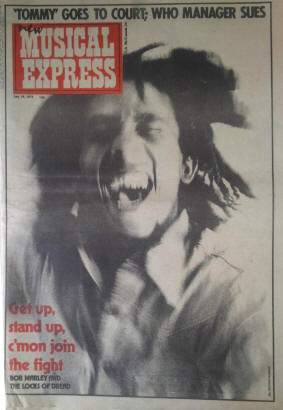 Frank Zappa - One Size Fits All (review)
By Charles Shaar Murray, p 18
---
THE FIRST WORD of this review is "deteriorate." It means to Lose Your Magic.
(full text available @ Rocksbackpages)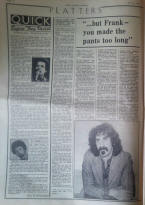 Source: EB

1976 December 4
Any Resemblance is Purely Conceptual
By Miles, p 16
---
We haven't heard much from Frank Zappa since his law suite against the Royal Albert Hall who cancelled his concert at the last minute on the grounds of Frank's music being too smutty for delicate English ears.
Full text available @ Rocksbackpages.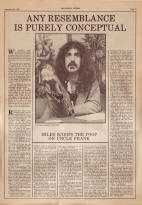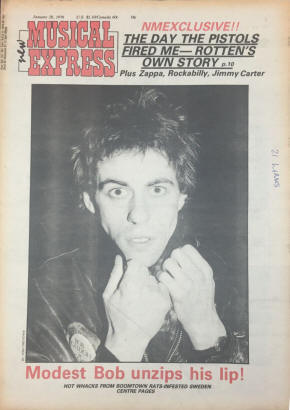 1978 January 28
Stern Words In Knightsbridge
By Paul Rambali, p ?
---
One final question then: does Zappa consider himself to be the arch cynic he is often painted as?
"Absolutely. And not only that, I think being a cynic is the only rational stance to take in a contemporary society. I would call it quite a compliment to be called an arch cynic; that almost sounds important. Definitely I'm cynical. Everybody ought to be cynical. You can't just go around believing everything everybody tells you ... (read more)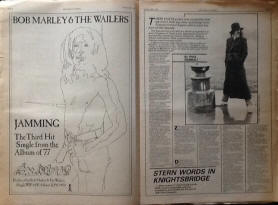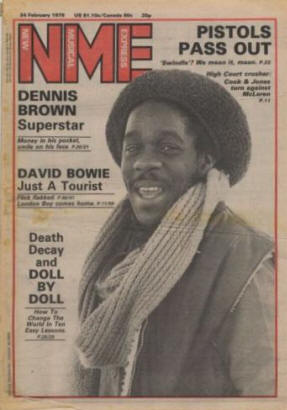 1979 February 24
A Tasty Change From So-so Soup
By Mark Ellen, p 47
---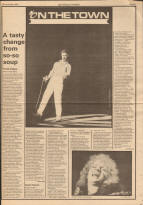 In the late '60s, Zappa's crusty operettas were known to warp impressionable young minds, while striking chords of primal panic in the ranks of the morally stable.
By '74 ('Apostrophe'), the Mudshark, the Poodle and all other spectres from his fetid fantasias no longer outraged, they merely amused. Despite his insidious contempt for the lame-brained, hung-up geeks that he reckoned constituted his audience, Zappa's seedy demeanour had lost its 'reactionary' stamp.
On stage for this year's panto in nasty pink shirt, buckled sandals and shapeless white strides, he cuts a perversely tame figure. The shock/horror mystique has long since been replaced by 'total control'. (read more)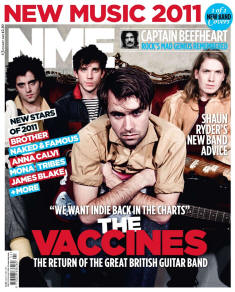 2011 January 8
Captain Beefheart
"He Always Did What The Hell He Wanted"
By Pat Long, pp 4-5