Rockin'f
ロッキンF
Since July 1976. Probably a good magazine as it started with Jimmy Page cover. (..) This magazine has changed their direction and currently is only for Japanese rock music. So you do not need to bother yourself to get recent issues. (
Yasuhiro Shiga
)
Rockin'f
(ロッキンf) is a magazine focused on rock, heavy metal, and (to a lesser extent) hardcore punk music. In the beginning of 2002 the publisher Shinyusha Co., Ltd. goes bankruptcy. In 2005, another publisher takes over the work. (
wikipedia
)
Last series of
Rockin'f
(2005-2007) contained 28 issues. Since October 2007 the magazine was retitled
WeROCK
and issue numbering restarted from 1.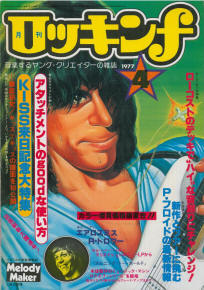 Vol. 2 No. 4
---
Page 32 is devoted to Frank Zappa.
TAN Mitsugu:
Title (or headline?): Only one move from insanity to genius... Look at this mysterious group - Zappa!

I think that the rest of the text doesn't have any interesting info. It's just the unknown author's impression on FZ, like "It seems that this man is interesting probably because..." etc.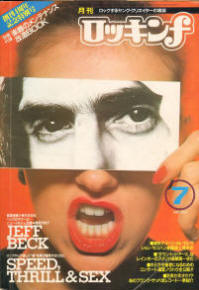 Vol. 5 No. 51
Rock File #30 Frank Zappa
pp 177-184

Avant Garde
pp 238-241