Guitar & Bass
Monthly musician's magazine founded in 1991 (was called The Guitar until 2004). ISSN 1755-3385. (Former ISSN 0962-2640.)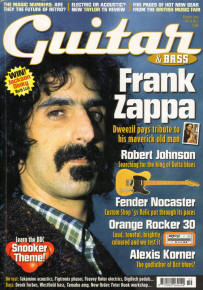 Vol. 16 No. 7
Father Of Invention
pp 22-29

Let's Be Frank
Short score excerpts of Inca Roads and St. Alfonzo's Pancake Breakfast
pp 28-29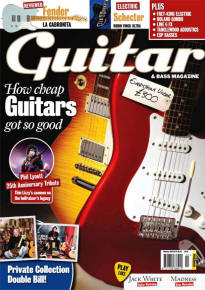 2011 February
Vol. 22 No. 5
Gene Genius
By Alan Clayson, pp 40-42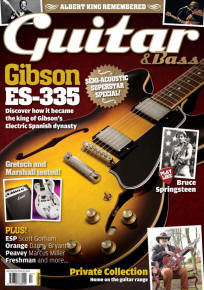 Vol. 24 No. 10
Roxy Music
By ?, p 12
---
"Dweezil Zappa first leaked info about Gibson's rather delectable new Frank Zappa ® 'Roxy' SG a while back and it certainly drew the crowds when it was displayed at NAMM in January. Now Gibson has finally unleashed it on the world. This heavily modified animal is a reproduction of the early '60s SG Special Zappa played during his legendary shows at the Roxy Theatre in Hollywood right down to the finer details. The guitar features a pair of uncovered and enhanced '57 Classic humbuckers with two added mini toggle switches that either split the coils or put them out of phase to access Zappa's signature tones. The SG also boasts a chunky Maestro-style vibrola with Lyre tailpiece for those wig-out moments. A tasteful natural neck with white headstock and faded nitrocellulose Cherry finish give it a truly unique look, too."
Source: Vitaly Zaremba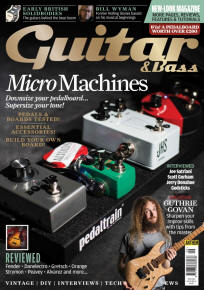 2015 September
Vol. 26 No. 12
Soundtrack Of My Life
By Darran Charles, p 30
---
The frontman of Welsh progressive heavy rock trio Godsticks selects the records that shaped his style. Among them are:
Frank Zappa Broadway The Hard Way
"Full of incredible vocals and an amazing horn section, the '88 Zappa band was my favourite FZ line-up, and perhaps one of the greatest ever live bands; Rhymin' Man is a virtuosic band masterclass. Even though FZ is a huge infl uence as a composer, as a guitarist he doesn't really do it for me, but his clean solo in Any Kind Of Pain is one of my favourites."
Frank Zappa You Are What You Is
"To the uninitiated, this album was insane – the lyrics were hilarious and the compositions were equally bizarre/intriguing. Discovering Zappa was musically lifechanging, and this album made me realise there are no musical rules that can't be broken. The borderline-ridiculous Ike Willis vocal break in Beauty Knows No Pain will live with me forever!"
Source: Vitaly Zaremba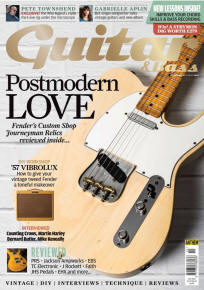 Vol. 27 No. 1
My Spinal Tap Moment ...
By Mike Keneally, p 130
---
It would be incredibly centering to learn flamenco guitar; my fingers sometimes go out of control when I'm improvising. If my fingers were flamenco-trained, I think I'd execute that stuff in the moment with more clarity. A few months after the 1988 Zappa band broke up, Frank surprised me one night by asking, 'you think you could learn to play flamenco guitar?' He was interested in forming a kind of world music band. The band never happened, but this question has got me thinking about it.
Source: Vitaly Zaremba