Musicians Only
British weekly music newspaper 1979(?) – 1981(?).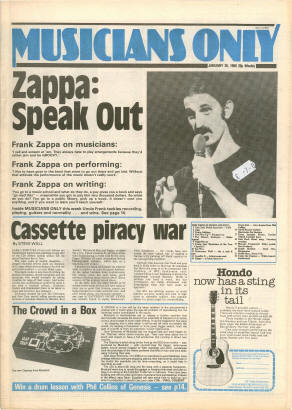 1980 January 26
Zappa: Speak Out
Interview by Paul Colbert, 2 pp
---
NO-ONE, BUT NO-ONE fools around with the Big Z. Zappa don't allow no doped in here. Neither he stand for late arrivals at the studio, chatting or tinkering in between numbers, slackness, idleness, lethargy or boredom. Uncle Frank runs a tight ship. Doodle with your keyboards once too often and you are out, and the chances are there'll be several dozen people queuing to take your place the next day.
Zappa was in town promoting a new film, Baby Snakes, already shown in the States and previewed in Britain. He also addressed himself to the new double album, JOE'S GARAGE, ACTS TWO AND THREE. JOE'S GARAGE, ACT ONE was released last year and all three tell the story of how music is banned by the Government as a dangerous and perverting influence. Most of the narration is handled by Zappa in the costume of 'The Central Scrutinizer' whose plastic megaphoned voice urges us to believe that 'Music Causes BIG TROUBLE'. It's good Zappa, but not great Zappa.
"We went into the studio to do two singles, "Joe's Garage", the song itself, and "Catholic Girls", and when we came out there were 17 songs. I thought there had to be some continuity there so I went home and wrote up the continuity over the weekend." So much for a divine concept inspiration on the bog. Where do the ideas come from?
"The Lyrics? Well things go through a lot of rewrites, I usually change things right up to the time they're recorded and sometimes I change them again before I take them back on the road for tours. I'll change the words right in the middle of a show, maybe use the song as a vehicle to talk about something that happened during the day. (read more)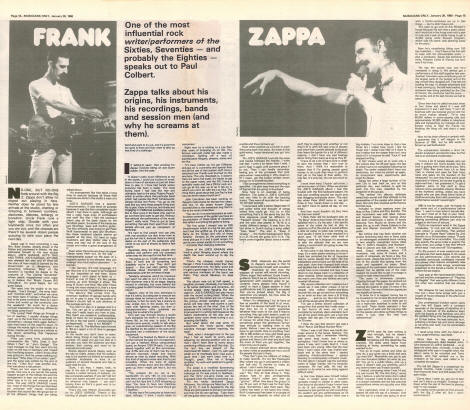 Source: slime.oofytv.set