Premiere Guitar
Premier Guitar
is an American multimedia guitar company devoted to guitarists. Founded in 2007, it is based in Marion, Iowa, and has an editorial staff composed of experienced musicians. (
wikipedia
)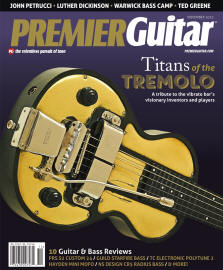 2013 November
Spontaneous Audio Devices - Son of Kong
By Jordan Wagner, pp 153-154
---
Even if you're a Frank Zappa fan, the name Arthur "Midget" Sloatman might not ring familiar. But for more than a decade, he was the resident studio technician at Zappa's Utility Muffin Research Kitchen studio. Zappa's guitars were fitted with Sloatman's custom parametric EQ and gain circuitry, which gave Frank complete on-board control over filter resonance and feedback. Sloatman eventually built the circuit into a giant enclosure to use in his own band and dubbed it Kong.

Sloatman's Son of Kong is an evolution of the original circuit. It features two studio-quality gain stages with an additional 20 dB of gain, the original Zappa-approved EQ circuit (which effectively works as a third gain stage) and a much more pedalboard-friendly enclosure, plus several other additions that enhance its already impressive versatility.
Son of Kong @ Spontaneous Audio Devices
Source: Vitaly Zaremba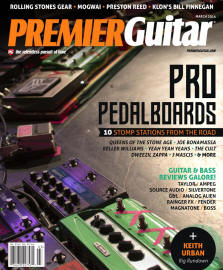 Pro Pedalboards: Dweezil Zappa
By Premier Guitar staff, pp 102-103
---
On the road playing his late father's tunes on the Zappa Plays Zappa tour, Dweezil uses a pedalboard outfitted with a Bogner Ecstasy Blue, JAM Pedals Fuzz Phrase, SolidGoldFX Formula 76, TC Electronic PolyTune Mini, SolidGoldFX Electroman, and JAM Big Chill and Red Muck stomps. Along the front of Dweezil's board is a Fractal Audio MFC-101 MIDI foot controller for the Axe-Fx II rack unit that he uses for amp sounds (he runs the pedals into its instrument input rather than its effects loop). One of the four expression pedals on his board is for volume control, while the other three are used for real-time control of various Axe-Fx II parameters, including occasional post-distortion-pedal wah. On the far right side of Zappa's board is a custom JAM wah, as well as an expression pedal used to alter the Big Chill's tremolo rate.

Source: Vitaly Zaremba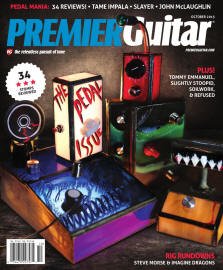 Forgotten Heroes: Denny Walley
By Premier Guitar staff, pp 37-38, 40-42, 44-45
---
Denny Walley isn't a household name—but he should be. His exquisite slide work and powerful vocals are integral to classic Frank Zappa albums like Bongo Fury, Joe's Garage, You Are What You Is, and others. He had a similar role in Captain Beefheart's Magic Band. (His Beefheart alias was "Feelers Rebo.") He toured extensively with Beefheart, and his guitar appears on the often-bootlegged 1978 classic Bat Chain Puller. But Walley's work isn't limited to the esoteric or avant-garde. He spent years as a sideman immersed in soul, funk, R&B, and blues, and nearly hit the big time with the hard-rocking Geronimo Black.
Source: Vitaly Zaremba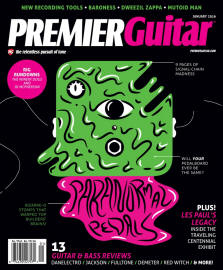 Vol. 21 No.1
Roots & Branches
By Jason Shadrick, pp 72-74, 76-80