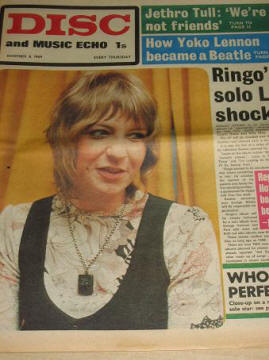 1969 November 8
Zappa: Now It's Time For Gravy
By Roy Shipston, p 15

Beefheart, Hamburgers, Hang-Ups ...
By Caroline Boucher, p 15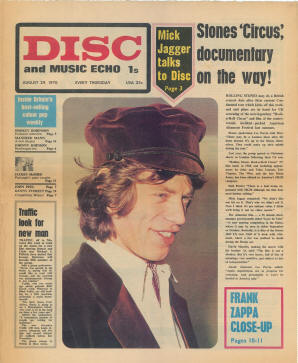 1970 August 29
A frank talk with Zappa on being a 'rebel chief'!
By Caroline Boucher, pp 10-11
---
"You can only derive a certain amount of pleasure out of an image," says Zappa. "It's not exactly my prime enjoyment in life. The very concept of a revolutionary leader is corny, it's so embarrassing to think that someone describes you in these terms."
He still fumes at the memory of the London School of Economics last year when he was besieged by a volley of "what do we do towards the big revolution, man?" type questions. But although he has strongly and repeatedly aired his views in the subject, Zappa is still regarded by many as the prophet of the age. (read more)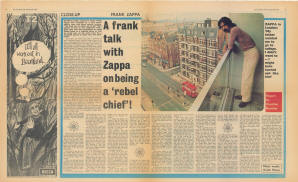 Source: slime.oofytv.set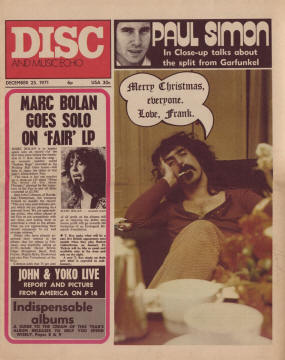 1971 December 25
1975 April 26
Zappa In Court
p 3

One Size Fits All
By David Fudger, p 11
---
Frank Zappa, showman, and zany rock personality extraordinaire is in Britain at the moment. The reason of this quick visit is to appear in court regarding his action against the corporation which runs the Albert Hall. Zappa's company, Bizzarre Productions Incorporated are claiming damages over cancellation of an Albert Hall gig which would have featured Zappa with his band and the Royal Philharmonic Orchestra. It is claimed that if the show had gone on, "The programme would have been in poor taste and obscene".
The judge handling the case has apparently been having some trouble over rock terminology. The meaning of words such as "groupie" and "underground" had to be explained tohim by Zappa. Meanwhile the case carries on.
Zappa, here with his manager Herb Cohen is also spending some time talking to the press (see page 11). He has a new album ready for release at any time, but because of "Contractual problems" no release date can be given. The name of this album is "One Size Fits All".
Source: slime.oofytv.set