Sounds
Sounds
was a British music magazine, published weekly from October 10, 1970 – April 6, 1991. It was well known initially for giving away posters in the centre of the paper (initially black and white, but colour from late 1971) and later for covering Heavy Metal (especially the New Wave of British Heavy Metal (NWOBHM) and Oi!) music in its late 1970s-early 1980s heyday. One of the trinity of British music weeklies along with the
New Musical Express
(NME) and the
Melody Maker
it finally folded in 1991 due to falling circulation. A legacy of
Sounds
however, was the creation of the Heavy Metal/Rock magazine
Kerrang!
, which was originally issued as a supplement before being spun-off as a separate publication, which continues to this day. (
wikipedia
)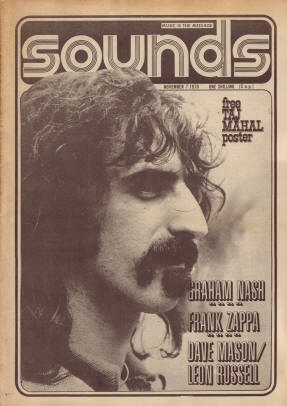 1970 November 7
Zappa – the great satirist
Interview by Bob Dawbarn, p 7
---
There are revolutionaries who hail this former advertising executive as their own. There are record company executives who regard him as one of the most cunning capitalists in the business. There are musicians who consider him a fine composer – composers who rate him a superb musician.
Me? I think he is one of the greatest satirists of our time.
We are probably all wrong, or, at least, only partly right. Each of our do-it-yourself Frank Zappa kits only reveals more of what we want to believe' than it does of Zappa himself.
He is the distorting mirror in which we look at our twisted selves and the cock-eyed, unfair society we have constructed. (read more)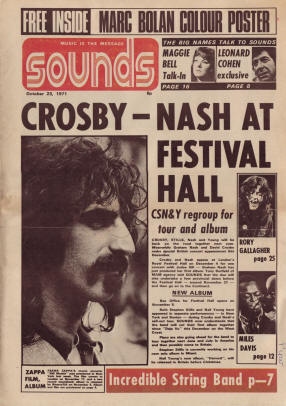 1971 October 23
200 Motels – The Film – The Album
By Michael Overton & Steve Peacock, p 9
---
Frank Zappa's movie monster "200 Motels" was premiered in New York last week. The film comes to London on November 17, and a two record soundtrack album is released by Bizarre/UA on November 5. Album and film are previewed on page 9.
Plus two news from page 6:
DYLAN SEES ZAPPA
BOB DYLAN attended Frank Zappa's early concert last week (October 11) at Carnegie Hall. Dylan was seated halfway through the orchestra section and left the hall just after the concert ended. He also stopped by the Graham Nash David Crosby gig two weeks ago .... At the Zappa concert, was Alice Cooper who should be in England with a new album while you read this ....
ZAPPA TOURS
FRANK ZAPPA was in town recently setting up publicity for "200 Motels." Frank did a David Frost show, and went on tour here in the states for 13 concerts and then Sweden, Denmark, Germany, Austria, Italy, Switzerland, France, Belgium and finally England. Zappa and his tired Mothers return to the States in time for Christmas, and then release the first three LPs out of the 9 LP anthology set.
Source: slime.oofytv.set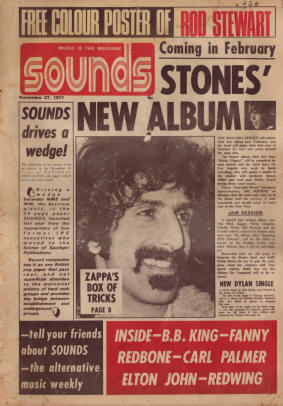 1971 November 27
Zappa's Latest Box Of Tricks
By Steve Peacock, p 8
---
I was starting to ask about the way he's approached making the movie. He's explained at length before what the film was about how it showed that touring makes you crazy, but presumably he'd seen other pop films and he had ideas about how to do it himself. He immediately picked up on the phrase "pop films".
"I'm not an avid fan of pop films, but you get dumped into that category by virtue of the fact that the film revolves around a group of people who happen to be musicians. I think I would use the same people whether they were musicians or not. I happen to be interested in making a musical film, but a lot of the music in it is not pop. In a way that's unfortunate because it's not like one of those regular rock and roll movies."
"But as far as the ideas for the technical things went, I had seen many examples of the special effects you can get, and I had some idea of the capabilities of video technique. 99% of the effects in the movie happen live while you're working, which means you can see how they're going to turn out at the time, and you don't have to send them away to a lab and get them to do it for you. If you don't like it you just erase it and do it again. It was extremely appropriate for this film." (read more)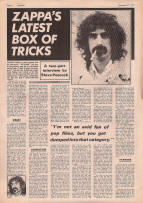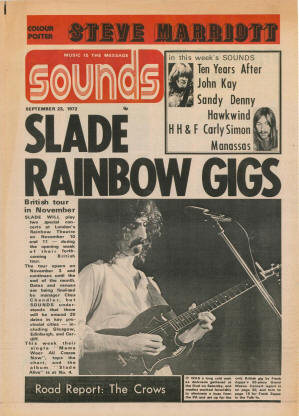 1972 September 23
The Zappa Talk-In
By Steve Peacock, pp 16, 21

Zappa: Red Hot Rat
By Steve Peacock, p 30
---
IT'S BEEN a long time since the Rainbow: for the rest of us, life's been going on, but for Frank Zappa a large proportion of that time has been spent lying in hospital beds, and resting in his Californian home, recovering from the disastrous incident in London which left him badly injured. Lately though, he's been writing and playing music; he did the 'Wawa Jawaka' album, and started a tour with a 20 piece band based on essentially the same ideas as the album. Lying in his hotel room last week, an air or weariness and a brace on his leg the only outward reminders of the Rainbow, he talked with little bitterness in his voice of his experiences in the world of rock and roll. (read more)
Source: slime.oofytv.set
1973 December 22
Ultra-Modern String Bean
By Mark Seidenfeld and Jon Tiven, p 24
---
ALTHOUGH DEPICTED as vicarious forms of slimy nightmare, Frank Zappa is NOT creepy, when asked about days of old (when everyone was groping around, trying to be realistic, you were being surrealistic, and more real than the rest. Did you ever feel like a turnip lost in a cabbage patch, or the gardener?), he replies, "None of the above." Frank says that he is doing lots of fantastic things, in fact, EVERYTHING. Right now, he's editing a new film for next year. (read more)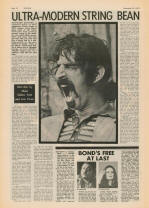 Source: slime.oofytv.set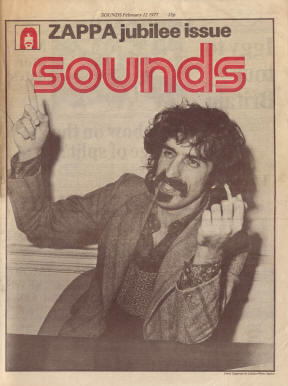 1977 February 12
It Can't Happen Here
A long look back at F Vincent Zappa and his very special bands from LA (and other places)
By Mick Brown, pp 24-25, 28-31
(full text available @ Frank Zappa: Hot Rats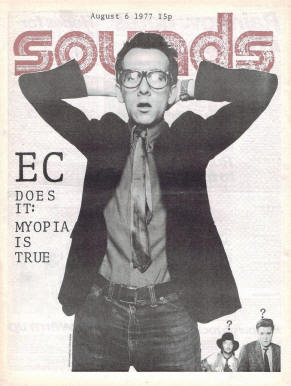 1977 August 6
Neat Vliet
Captain Beefheart "Bat Chain Puller"
By Eugen Beer, p 29
---
This is the Beefheart album very few people are going to hear unless the record and management companies involved with the Captain get moving. It sees Don Van Vliet returning to an area somewhere between 'Trout Mask Replica' and 'Clear Spot', undoubtedly his most satisfying period. (read more)

1978 January 28
Zappa Digs Sabs Shock!
By Sandy Robertson
---
HACK WRITER Sandy Robertson once again finds himself with nothing constructive to say, and so resorts to the usual cop-out of writing down almost everything on the tape and giving it a flashy title like... 'AUDIO WASTE', the soundtrack to a non-existent movie, starring FRANK ZAPPA as 'the hero', GENESIS P-ORRIDGE as 'the other hero', SANDY ROBERTSON as 'the rock fan', and THE BODYGUARD as himself. Stills by Harry Murlowski. (read more)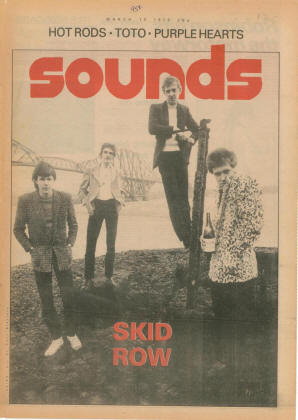 1979 March 10
Up Yours
A true story of Frank Zappa and anal fetishism
By Hugh Fielder, p 36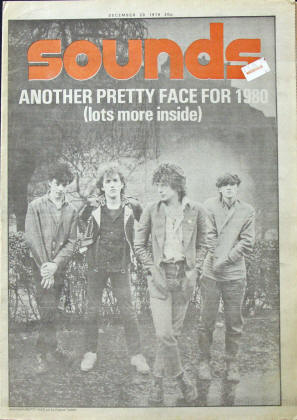 1979 December 29
He's A Gar(b)age Band
By Hugh Fielder, pp 22-23