Mother–Mother
By Joe Mancini
---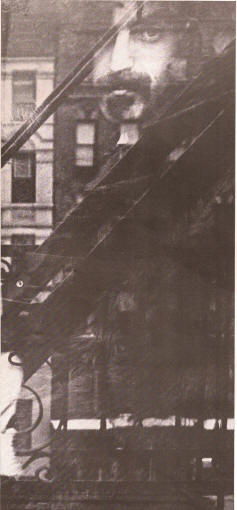 Frank Zappa, on-stage, doesn't seem to care.
He lumbers out, slung with guitar, inscrutable. A spindly, hairy Buddha in blue jeans.
Frank Zappa takes his time.
The nerve of Frank Zappa, he keeps the audience waiting, sneers at them, addresses them with sarcasm and contempt.
But when he's good and ready Frank Zappa makes things happen.
Lights flicker, blaze, die out.
Then come the sounds. Loud, louder, loudest, all kinds of sounds. Old sounds, new sounds, Elvis Presley, Igor Stravinsky, the Supremes, the Andrews Sisters, Dick Haymes, Spike Jones. A lot of the past, plenty of now and an assault on the future.
The Mothers of Invention: Frank Zappa, six other maniacs and a pile of musical instruments.
They are satirists, iconoclasts, nostalgicians, super talented musicians.
They are a lot more.
To quote Suzy Creamcheese, writing on the jacket of their first record, Freak Out (Verve 5005-2):
"These Mothers is crazy. You can tell by their clothes. One guy wears beads and they all smell bad. We were gonna get them for a dance after the basketball game but my best pal warned me you can never tell how many will show up ... sometimes the guy in the fur coat doesn't show up and sometimes he does show up only he brings a big bunch of crazy people with him and they dance all over the place. None of the kids at my school like these Mothers ... specially since my teacher told us what the words to their songs meant."
Frank Zappa in a Greenwich Village coffee house: pink shirt, red and blue vertical-striped bellbottoms, black snaked hair, Mexican-bandit moustache, straight-from-the-lower-lip goatee.
Composer, arranger, conductor and den mother of the Mothers. Frank Zappa, 26, divorced, suspicious, cynical, real.
Frank Zappa tells it like it was.
* * *
Frank Zappa is a 13-year-old boy living in Monterey, Calif. His mother is fond of soap operas; nothing else is heard on the radio. They don't have a record player. He lives a sheltered life. He's never even heard of rock 'n' roll.
He stumbles upon a recording of "Gee" by the Crows. It turns him on.
"I beat my folks over the head until they get me a drum. It's just a lousy little snare drum. But it's a start."
Frank Zappa is 14. He hears his first symphony. It later leads to his composing works for chamber music ensemble and symphony orchestra and scoring bigbeat adaptations of Mozart, Holst and Varèse.
Except for six months of harmony in high school, Frank Zappa receives no formal musical training. "I have a lot of trouble with school. They keep throwing me out. Then they figure I'm not really stupid and send me to junior college for a couple of hours a day."
Frank lands a spot with his first rock band, the Ramblers, in San Diego. They work places like American Legion Post No. 6.
It's a start.
* * *
Frank Zappa and the Mothers, recording artists.
Freak Out had an advance sale of 15,000 copies (for a first record!), has sold a total of more than 125,000. Absolutely Free (Verve 5013) had a 45,000 advance.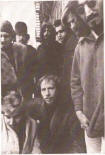 The Mothers' wild sound, on record, without the sneers, without the looks of ennui, without all that hair, without the clothes, the beads, the beards, is something else.
Sounds. Lampoons. Sounds. Dissonant. Sounds. Electronic. One song runs into another. Are these Mothers insane?
Frank tells it:
"The main thing is that we're impossible. Judged by any commercial standard, we have nothing to offer the American public. Ask any broadcaster. He'll tell you right away. What they don't want is us. We have no business working and making money."
But the records are selling big, from Greenwich Village to Haight-Ashbury, Scarsdale to Beverly Hills.
"We helped to create the environment that makes it possible for us to be a success.
"It remains to be seen if we're going to be a dollar success. We've even been triumphant. We've gotten away with some of the greatest masterpieces and/or atrocities ever performed live before an audience."
And on record.
"It's improvised insanity! Nothing's sacred rock 'n' roll.
"In September, we're releasing The Mothers and Lenny Bruce. Spliced tapes of Lenny Bruce enmeshed with our members.
"We're touring Europe in October. England, Holland, France, Sweden, Denmark. In November, we're releasing We're Only In It For The Money."
* * *
Frank Zappa is 18. He goes to Los Angeles to seek his fortune. He gets a job selling records, is asked by one of his former high school teachers, now producing films, to become the youngest person ever to score a motion picture (Andre Previn did it at 20). But the movie's leading lady has a miscarriage. Production is halted.
Frank goes to work for a greeting card company. He marries at 19.
Frank Zappa is 20. He ties with Previn when he scores "The World's Greatest Sinner." Then the first picture, "Run Home Slow," resumes production.
Frank Zappa is 22. The Mothers of Invention are about to take shape. His marriage is starting to fall apart.
* * *
The best of the Mothers are musical geniuses, the worst of them close to it.
Their numbers are a kaleidoscope of electrified sound, emerging here, vanishing there, mushrooming, flattening out, exploding. Fireworks. You don't catch all the strains running through this music, but what you do catch pulls you in.
You don't catch all the lyrics either. But what you do catch stimulates. They're rebellious, belligerent, tearing down the bad guys. High school, parents, the establishment, outmoded moral traditions.
* * *
Frank Zappa, 22, gets the use of an expensive fully-equipped recording studio, in payment for a debt owed him. He starts putting together experimental noises. The material is being formed, the ideas being developed that will someday form the repertoire of the Mothers of Invention.
There's a group playing somewhere. Roy Estrada, now a Mother, is part of it. He picks up Jim Black, another present Mother. Then Ray Collins joins the bunch. Ray always has been a troublemaker. He picks a fight with the guitar player. They come to blows. Ray wins. They need another guitar player. Somebody mentions Frank Zappa.
"Tell you what I'll do," says Frank, who has the run of an expensive, fully-equipped recording studio, "I'll be the leader of the band." Who's to argue? It's his bat and ball.
They pick up another three musicians along the way – Bunk Gardner, Don Preston, Billy Mundi. They play a lot of crummy joints. Topless bars. Go-go palaces.
They go to a party in L.A. A lot of important Hollywood-type people are there, the Mothers perform, they get more work – The Action Club, The Whiskey Au Go Go.
The Mothers are formally founded on Mother's Day, 1965. The name is slightly different. There is no "... of invention"; in its place is an unprintable collective noun.
* * *
The cast of the Mothers: Ray Collins, lungs and ingenuity (looking like Bert Lahr's bald-in-front cowardly lion). Bunk Gardner, a virtuoso on eight instruments, including the electric piccolo. Jim Black, percussion and bass trumpet, sings too. Don Preston plays about six. Roy Estrada, electric bass, funny gestures. Billy Mundi, percussion and voice, makes high pitched noises.
When they're in the mood, this line-up can deliver incisive lampoons of earlier rock heroes without masking their true affection for them. More than parodies, these take-offs are a homage to their precursors.
Their original stuff is best described by the titles: "Mr. Green Genes," "Call Any Vegetable," "Son of Suzy Creamcheese," "Who Are the Brain Police?"
Performed to the accompaniment of:
Physical gestures.
Marx Brothers humor.
Audience participation.
And dissonant harmonic structures.
Frank: "Sometimes the audience thinks some of the gestures are obscene. They're right."
Ray, tearing off a strip from a head of lettuce: "Leaf us alone."
Frank: "We invite screamers and laughers up on the stage to blend with our music. Some of the sounds you get are priceless."
What about dissonance?
"It's all carefully planned. Not just noise music. We use dissonance of relative density, graded on a psychological scale, to get a specific reaction. For example, a certain high-pitched woodwind combined with a high-pitched organ produces an emotional response."
* * *
In 1965, the group is signed by MGM's Verve Records and are forced to change their name.
How about simply the Mothers?
Verve polls the d.j.s. "We won't even say the word on the air, much less play the records," is the typical response.
How about the Mothers' Auxiliary, suggests Verve.
Echhh.
The group settles on the Mothers of Invention. As they become more successful, their billing is starting to look something like this:
THE MOTHERS of invention.
Who knows, someday they may get their original name back.
The Mothers cut Freak Out in March 1966, squeeze in a month at Da Swamp in Hawaii, then a few gigs in San Francisco and back to L.A.
The police start to clamp down on some of the joints on the Strip and the Mothers run into a dry spell.
Frank: "We starved for a long time last year."
In November, they cut Absolutely Free.
They get an engagement at the Balloon Farm in New York City's East Village from Thanksgiving till New Years. Things are looking up.
A job in Montreal, back to the West Coast. By Easter they're in New York City again at Greenwich Village's Garrick Theater. There they'll stay until September.
* * *
Frank Zappa, mother-mother, thinker, something of a success.
A producer for MGM (he produces the Mothers for them). A composer for Capitol. He's created and conducted a ballet for them, "Lumpy Gravy." He wants a puppeteer to do the choreography.
Frank Zappa – skeletal, long hawk nose, piercing eyes, unkempt, but up close not really all that ugly – has a purpose.
"Today in the United States there's a group of people – I know they gotta be out there – who don't care whether they're hip, hep, swinging or zorch.
"These people have the ability to motivate social change.
"We're here to assist and encourage them.
"I want to reach the vast minority."
Read by OCR software. If you spot errors, let me know afka (at) afka.net