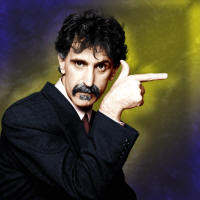 The purpose of this site is to provide a little help to those that are looking for written material about Frank Zappa.
afka (at) afka.net
Upcoming Zappa books
Freak Out! My Life With Frank Zappa by Pauline Butcher (new edition) - August 2022
Thing Fish lyrics book by Václav Pěnkava et al. - October 2022
Mother Superior : The Saga of Frank Zappa and the Mothers of Invention: The Authorised Biography by Alan Clayson - October 2022
The main index of books on Zappa contains now 289 items.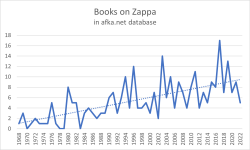 Support this website!
This is a non-profit website, dedicated to composer Frank Zappa.
Please help with the running costs of this website by making a donation.
Zappa Books
New Entries.
16 August. British trade paper Music Week:
- 1980 April 19 : news from Sweden and Norway - Bobby Brown etc.
- 1984 September 29 : Zappa signs to EMI
- 1985 July 13 : Satire is the Mother of Invention
- 1986 March 1 : Zappa albums for EMI reissue

15 August. Captain Beefheart discography. Italian Gong, April 1975.

15 August. Japanese men's fashion magazine Popeye, #2 1976. How did Frank Zappa produce Grand Funk Railroad?

14 August. Dutch Soundz #5, 2020. Reviews of the Co de Kloet's book and Halloween 81 album.

14 August. Suomen Kuvalehti (Finland's picture magazine) May 2009. Dweezil Zappa and Zappa Plays Zappa are visiting Helsinki.

13 August. Stars Car No. 24. Frank Zappa. Creem, February 1977.

13 August. German Grand Guitars, #1 2016. Frank Zappa's 75 anniversary - "Consensus is nonsense".

12 August. Italian Qui Giovani, January 1974. Frank Zappa's past, present and future by Barbara Woods.

11 August. Modern Drummer, July 1981. Drum Soloist: Terry Bozzio

11 August. "Fab Zap!" Paris concerts review and a short interview with Frank Zappa. French monthly Best, March 1977.

9 August. Aksentti, January 1994, a magazine from Finland. Obituary, on 5 pages with short reviews of several albums, including even Touch me there by Shankar and Shampoo Horn by Z.

8 August. Rock magazine Polip from Hungary. 1988 July issue contains a Vienna concert review. 1989 March issue has an exclusive interview - the journalist met Zappa by chance in the waiting room of the Schipoli airport.

7 August. British trade paper Music Week:
- 1975 November 15 : Bongo Fury release problems
- 1976 December 18 : Zoot Allures
- 1977 November 12 : a full page WEA Records advert
- 1978 April 22 : Zappa In New York

6 August. Civilization Phase III by David Fricke. Rolling Stone, August 24, 1995.

30 July. Italian weekly Nuovo Sound, February 24, 1975. Retrospective Uncle Meat.

29 July. German Musiker, July 1988. A 5-page interview with FZ.

28 July. Japanese Record Collectors' Magazine.
- 1996 May : The Lost Episodes
- 2021 September : interview with Ahmet Zappa

27 July. Hungarian short-living monthly Sztár Magazin, August 1988, containing an exclusive interview with FZ - "The white elephant of rock".

26 July. Litoral, Spanish magazine of poetry and art, issue 183/185, 1989, with "I'm the slime" lyrics translated to Spanish.

25 July. American lifestyle magazine Mondo Italiano, July 2022. "UMG becomes the permanent home of Frank Zappa estate".

23 July. Italian weekly Super Sound.
- 1972 November 20 : Waka/Jawaka
- 1973 January 8 : The Phlorescent Leech & Eddie
- 1973 January 20 : a nice calendar

23 July. UK trade magazine in the 70s, Radio & Record News. Opinions on Studio Tan and Joe's Garage.

22 July. Japanese Player, April 1999. Translated article "Frank Zappa Lost Episode: Interview with Steve Vai and Mike Keneally".

22 July. Finnish Musa, October 1974. About Roxy & Elsewhere - "The show stank, Frank, but the record is OK ....."

21 July. Two issues from different sides of the Atlantic related to the 200 Motels film.
- Italian weekly Qui Giovani, March 1971. The article is mainly about the banned Albert Hall concert, but contains pictures from 200 Motels film, half a year before the film's release.
- American monthly Creem, February 1972. A long article by Rick Bolsom, "200 Motels: What's The Deal?".

20 July. Circus Raves revisited. Two issues of this short-living American monthly were added.
- 1974 November, 4 page article on Live All Over The Place (actually published as Roxy & Elsewhere)
- 1974 August : Very bad opinion about the album Apostrophe

20 July. Italian weekly Qui Giovani, May 1974. Captain Beefheart: "New album but this time for clear minds" (Unconditionally Guaranteed).

19 July. Weekly VeckoRevyn, July 30, 1980, from Sweden. May 31 Drammenshallen concert review with Arthur Barrow and David Logeman interview snippets, and some nice pictures. It was the time of "Bobby Brown" madness in Scandinavia!

19 July. British Beat Instrumental, August 1988. Zappa will have a session in Trident Studios. An Evening With Wild Man Fischer.

18 July. French Jazz Magazine, January 2012. Review of the Carnegie Hall 4 CD box.

18 July. Music Magazine, January 1988, from Japan. The feature of this month was the Ryko reissues of FZ's early albums.

17 July. Three issues of the Finnish Soundi, containing enjoyable album reviews by Hannu Tervaharju:
- 1982 April : Shut Up'n Play Yer Guitar
- 1982 September : Ship Arriving Too Late To Save A Drowning Witch
- 1985 February : Them Or Us

16 July. German teenager magazine Bravo. Six issues from different sources were added.

15 July. Italian monthly Buscadero.
2017 December : Halloween 77
2018 March : comic book Zappit! and The Roxy Performances
2019 November : The Hot Rats Sessions

14 July. I Shot Frank Zappa is the autobiography of Robert Davidson, who shot to fame with his iconic photograph of Frank Zappa sitting on the toilet.

14 July. 3rd main Hungarian youth magazine of the communist era - Ifjúsági Magazin. Four issues printed in the 80s, including one containing interview with Frank Zappa.

13 July. British weekly Sounds, May 3, 1975. The interview with Allen Toussant has a Zappa part. And full-page article "Zappa And The Groupie Papers".

12 July. Hungarian youth magazine Magyar Ifjúság (Hungarian Youth). Four different issues from 1971-1988. Vienna 1988 concert review is a nice read.

12 July. Dutch Oor, January 1979. Joe's Garage Act I explained in detail.

11 July. Italian Rockstar.
- 1986 December : Apostrophe & Over-Nite Sensation on CD
- 1987 February 1987: Jazz From Hell, quite a disparaging review.

11 July. Record Collector, July 2007. DVD Classic Albums: Apostrophe & Over-Nite Sensation.

10 July. Hungarian youth magazine Világ Ifjúsága (Youth of the World). Six different issues from 1979-1987.

9 July. Short Frank Zappa discography, published in 3 consecutive issues of Ciao 2001 in December 1974.

8 July. Zappa is a new Spanish book by Quim Casas Moliner, a well-known cinema critic, writer and collaborator in rock magazines.

8 July. Japanese Guitar Magazine, May 1983. Interview with FZ by Tom Mulhern.

8 July. German music monthly Visions, January 2013 with Frank Zappa Buyer's Guide.

6 July. Freshly printed in June - N-Lite: The Compositions by Frank Zappa by Heikki Poroila. This 450 page B5 size book is a catalog of every musical work that Frank Zappa created.

6 July. German stage and studio equipment magazine Tools 4 Music, April/May 2018. The digitization of the Frank Zappa sound archive.

6 July. Short interview with FZ on Baby Snakes. French Best, March 1980.

5 July. In 1979 Crawdaddy changed its title to Feature.
1979 January : Shiny Beast, Studio Tan
1979 February : Frank Zappa's ten favorite things in 1978.

4 July. American rock magazine Crawdaddy, 4 following issues added today:
1975 July : "Zappa Downs Beefheart"
1975 September : "When In Doubt Say 'Arf'" (One Size Fits All)
1976 March : "Trout Mask Replica / Uncle Meat"
1977 February : "Frank Zappa Gets The Mothership" (Zoot Allures)

3 July. "11 questions to Frank Zappa". Interview made in Clarence Gate Club, London, by Hungarian illustrated weekly Képes 7, June 1987.

3 July. British Sounds, March 1986. The Zappa Collection ad.

2 July. Oldest Japanese cinema magazine Kinema Junpo, May 2022. Zappa documentary reviewed and a lot more reading on FZ.

2 July. A very early American Creem issue, vol.2 no.1, May 1969.

1 July. Arf-Dossier #112, June 2022, from Germany. You should know that after a break of couple of years, the Zappanale festival will take place again - July 15.-17. Music is the best!

1 July. Final 4th September 23, 1973, Ciao 2001 issue with Over-Nite Sensation review.

30 June. Another, 3rd September issue of the weekly Ciao 2001 September 16, 1973, containing
- review of Over-Nite Sensation
- article on Zappa's visit to Italy
- translation of The Legend Of Cleetus Awreetus-Awrightus & the Grand Wazoo in Italian.

29 June. A sizable article by Dario Salvatori: "Everything you wanted to know about Frank Zappa, but never dared to ask". This article was published in the Italian monthly Ciao 2001, September 2 and September 9 issues back in 1973. Today we added the 2nd part.

28 June. We also added the successor of Hungarian Wanted magazine - Wan2. Nine different numbers issued between 2002-2008 were listed.

28 June. In the 90s in Hungary, two main competing rock-oriented magazines were Wanted and Z Magazin. Both now added to our database.
Wanted:
- 1996 February : article on guitar heroes
- 1996 April : The Lost Episodes
- 1996 November : Lather
Z Magazine:
- 1996 November : Lather
- 1997 February : You Can't Do That On Stage Anymore

27 June. Classical music and jazz magazine Gramofon from Hungary. Three issues with FZ content:
- 1997 April : Have I Offended Someone?
- 1998 April : Omnibus Wind Ensemble
- 2007 Autumn : 100 percent Zappa, concert review

26 June. Calendar of 1975 by Nuovo Sound.

26 June. Yearly publication Pop Musikmagazin from former East-Germany. The 1986 issue had an article on Zappa and the musik business.

25 June. French Extra.
- 1973 November : Over-Nite Sensation
- 1973 December : back cover

25 June. Frankly A Cappella: The Persuasions Sing Zappa. Italian Buscadero, June 2000.

22 June. Illinois State University students' paper The Vidette. Nice series of Zappa concert reviews from 1974 to 1980.
- 1974 "Zappa receives abnormal reaction"
- 1975 "Zappa displays unique performance"
- 1976 "Zappa exhibits finest talents in Chicago"
- 1977 "Audience experiences Zappa"
- 1978 "Zappa's concerts: a unique experience"
- 1980 "Zappa performance filled with goods, bads"
Plus two articles on 200 Motels from the same source:
- 1971 "'200 Motels' – Zappa's most fulfilling"
- 1972 "Madhouse in '200 Motels'"

21 June. "The treasures from the crypt" - Andrea Trevaini reviewed several albums in a two-part article, published in Italian Buscadero in July and November 2017: Imaginary Diseases, Buffalo, A Token Of His Extreme, FZ:OZ and Philly '76.

20 June. Record Collector, May 2008. Short interview with Flo & Eddie.

19 June. Fresh from the mail, Czech Zappostrophe #147. 3rd issue in 2022. This is the longest running Zappa fanzine in the world, founded in 1986!

19 June. Sizable review of the Apostrophe with extra sections on music, lyrics and engineering. Italian Super Sound, February 20, 1974.

18 June. British Sounds, February 19, 1980. "Rock 'n' Roll Zoo" by Savage Pencil.

18 June. Italian Rockstar, February 1986. Frank Zappa Meets The Mothers Of Prevention.

18 June. In Il Mucchio Selvaggio's issue Spring, 2003 is a list of "100 albums to avoid". FZ is presented with The Man From Utopia.

17 June. Dutch Oor, March 24, 1976. Long interview with FZ by Roberto Palombit "I play Frank Zappa".

16 June. DownBeat:
- 2021 February : Ed Palermo Big Band: Run With It
- 2021 December : Holiday Hits: Frank Zappa 200 Motels

15 June. Interview with Captain Beefheart. DownBeat, April 1981.

14 June. British student magazine Arrows, #96, 1968. Review of Lumpy Gravy.

13 June. First half-year of 1979 - the year of Sheik Yerbouti - in the Italian Ciao 2001:
- January 14 : some Zappa news
- March 4 : "Instant Zappa"
- March 11 : Zappa news
- March 18 : article on groupies
- April 1 : Zappa news again
- April 15 : Sheik Yerbouti ad
- May 20 : "The ballad of the cunning sheikh"
- June 10 : FZ will conduct the orchestra in Vienna
- June 24 : Sleep Dirt and Orchestral Favourites

5 June. Rare Finnish Flip, January 1975, containing Frank Zappa story.

4 June. Musica e dischi, February 1977. Zoot Allures.

3 June. Exhibition catalog from 1969 - Underground Skånska Konstmuseum. Contains some Zappa lyrics and references.

3 June. British Record Collector, October 2016. Alun Hamnett has something to say on Lumpy Money, Road Tapes #1, #2 and #3.

2 June. Japanese bi-monthly magazine Marquee, vol. #16, January 1999. Marquee presents 70's Rock Guide: Captain Beefheart & His Magic Band.

1 June. More from the Dutch magazine Oor - issue #16, 1971. Presumably printed on December 9, 1971. Contains two good articles:
- interview with FZ on 200 Motels
- review of 200 Motels film and Rotterdam concert

31 May. Another interview with Frank Zappa. Dutch music magazine Oor (Ear), September 1973. Zappa had concerts in Amsterdam where the interview was made. The talk was mostly about the movie "200 motels".

30 May. European trade publication Music & Media, June 1990. The interview "Zappa Looks East From The West" was conducted at Zappa's Hollywood Hills home by Lee Zhito, Billboard's former editor and publisher.

29 May. Relix magazine:
- 2002 December : Zappa Picks by Jon Fishman and Larry LaLonde
- 2005 June : Exposed by Baron Wolman

28 May. Sounds, December 1985. Frank Zappa Meets The Mothers Of Prevention.

27 May. BAM Rock and Video, March 1985. BAM photographer Richard McCaffrey's Favorite Pics.

27 May. Billboard 17 June 1972. Former Jimi Hendrix bassist Noel Redding sues Frank Zappa. The suit stems from a fall Redding took on an exterior staircase at Zappa's home while a guest there in September l97l.

26 May. Brazilian comic magazine Animal, June 1991. Contains sitar player Alberto Marsicano's recollections of meeting Frank Zappa.

23 May. British classical music magazine Gramophone. The following issues added:
- 1985 July : Frank Zappa plays Francesco Zappa
- 1994 August : John Cage Tribute, 4:33 silence performed by FZ
- 1996 April : Meridian plays Zappa, Beefheart etc.
- 2001 January : The Zappa Album, Ensemble Ambrosius

22 May. Two Finnish magazine Soundi issues with album reviews:
1978 July - Zappa in New York
1978 November : Studio Tan

21 May. France, Rock & Folk, January 2003. Records produced by Frank Zappa.

18 May. British Sounds on Hot Rats, 1971 November 6 issue.

17 May. Italian Rockstar with some album reviews:
- 1984 December : Them Or Us
- 1985 February : Thing Fish, Francesco Zappa, The Perfect Stranger

16 May. "I'm The Slime" comic strip by Moreno Chiacchierra in Rockstar, March 1984.

10 May. Several issues of the Italian Buscadero from the 90s added, inluding 4 album reviews by Piero Tarantola:
- 1996 October : Lather
- 1997 April : Have I Offended Someone?
- 1997 October : Strictly Genteel
- 1998 February : 200 Motels

9 May. Good read. And long. "Frank Zappa Of Necessity Founded The Mothers Of Invention". The Baltimore Sun Magazine, 3 May 1970.

8 May. British monthly Mojo, 2022 issues:
- #338 January : "Zappa Crashes At 200 Motels"
- #339 February : 200 Motels
- #340 March : cover story on The Monkees
- #341 April : book by Co de Kloet reviewed

7 May. The Baltimore Sun, 19 October 1971. Concert review. On October 17, 1971 Frank Zappa and the Mothers of Invention had two shows in Lyric Theatre, Baltimore. "Frank Zappa's madness more inventive than ever".

7 May. Texan Rock And Blues International, February 2022. The Mothers 1971 box set.

5 May. Guitar Club from Italy. Two issues containing great interviews with Frank Zappa:
- October 1988 : with 1988 interview "The unpredictability of the instrument"
- May 1994 : with 1983 interview "Frank Zappa tribute"

4 May. Great Dutch biweekly Aloha. Some indeed interesting issues from 1969 added:
- #6 July : An Evening With Wild Man Fischer
- #11 September : "My Guitar" single review
- #13 October : "The Mothers apart"
- #17 December : FZ interview by Rolf-Ulrich Kaiser "Zappa: I won't shed a tear" and Hot Rats review

3 May. Essay "Alternative America" by Maurizio Baiata. Muzak, November 1974.

2 May. Essay "Two ways" (on heart and brain in the rock music) by Giaime Pintor. Italian monthly Muzak, July 1974.

30 April. "You don't always eat if you only play for fun" - interview with Aynsley Dunbar. New Musical Express, 27 February 1971.

29 April. Several issues of the Italian weekly Ciao 2001 from the year 1972 added. Maybe you will take a look at the October 8 issue, containing a London concert review and two album reviews.

28 April. Somewhere over the Rainbow: The Art of Neon Park. Very nice book first printed in 2000.

27 April. Finnish bimonthly Uusi Laulu, #2 1979. Sheik Yerbouti.

26 April. Fresh book from Czechia. Published in April 2022 as a limited edition of 100 copies - Frank Zappa - Texty / Lyrics. This thick and heavy book contains lyrics in English and Czech from 36 FZ albums.

26 April. "Private vices and public virtues" by Riccardo Bertoncelli. From Gong, June 1976.

24 April. Gong was the nicest Italian music magazine of the seventies for the quality of the articles and graphics. January 1976 issued had on Captain Beefheart "Parable of Willie The Pimp".

23 April. Italian Gong, September 1977. Article on contemporary electronic music.

23 April. In these days, April 2022, Japanese translation of the Frank Zappa biography by Barry Miles appeared.

22 April. New Musical Express, 5 December 1970. Interview "Metamorphosis of Frank Zappa", questions by Richard Green. Plus "Zappa at his bizarre best", show review by Roy Carr.

22 April. One of the first Finnish youth magazines Stump, June 1969. Frank Zappa: "Music has caused a lot of changes in the system".

17 April. "Zappa & Beefheart: The wise madness", in Ciao 2001, November 1972.

16 April. Collector's magazine from Italy, Raropiù, February 2020. Halloween 73.

16 April. Italian Muzak, July 1975. Article titled "There is a gentleman sitting on the toilet with a mustache".

16 April. Men's magazine Lui, German edition January 1985.

15 April. American WET Magazine, May/June 1980. Interview with Captain Beefheart.

15 April. Japanese Music Magazine Special Edition August 2000. Best 100 CD of the progressive music. Includes Uncle Meat.

15 April. Record magazine, published by the Rolling Stone in the 80s. August 1982 issue had articles on Missing Persons band and Captain Beefheart.

14 April. Italian monthly Il Mucchio Selvaggio (The Wild Bunch):
- 1988 December : Broadway The Hard Way
- 1990 February : Short Talks
- 1992 October : Unmitigated Audacity
- 1993 January : Playground Psychotics
- 1994 January : Obituary
- 1994 February : Zappa's Universe
- 1994 September : Apocrypha
- 2002 Winter : Hot Rats

13 April. German popculture magazine Spex, March/April 2016. Joachim Ody on 200 Motels with Esa-Pekka Salonen conducting Los Angeles Philharmonic.

9 April. Celebrated People's Pictures As They Were, by Tuli Kupferberg & Sylvia Topp. This book, first printed in 1973, is actually an excellent coffe table book.

9 April. Interview with Captain Beefheart. Zigzag, January 1978.

8 April. Finnish monthly Musa:
- 1975 August : George Duke, One Size Fits All
- 1975 October : Beefheart, Jean-Luc Ponty, Bongo Fury
- 1978 April : George Duke, Zappa In New York
- 1978 June : George Duke II

8 April. French Guitarist & Bass, October/November 2010. Zappa solo analysis.

7 April. Popster, Italian monthly issued by Zappa's friend Massimo Bassoli.
- 1979 November : Joe's Garage Act I
- 1979 December : 100 most important discs of the 70s
- 1980 January : Joe's Garage Acts II & III
- 1980 April : interview with FZ

7 April. Italian Musica e dischi, May 1974. Article on Zappa's albums from Grand Wazoo to Apostrophe.

6 April. Blast from the past. New England Digital Synclavier. British Computer Music, January 2019.

6 April. Japanese monthly Player, May 2007. Joe's Garage 8-page special, including interview with Terry Bozzio and many recording and equipment details.

5 April. A set of Italian Qui Giovani issues from 1973:
- August 30 : "Frank Zappa arrives in Italy with his legendary sound"
- September 20 : concert review
- September 27 : centerfold poster
- October 4 : Over-Nite Sensation review

5 April. French Guitar & Bass, May/June 2003. Zappa's America in 200 Motels.

4 April. Finnish Suosikki, May 1969. Interview with FZ translated from Rolling Stone.

4 April. Scans added to the well-know article by FZ "On Junk Food for the Soul. In Defense of Rock and Roll." New Perspectives Quarterly, Winter 1988.

4 April. Japanese electronic instruments and recording magazine DiGiRECO, May 2009. Contains articles on Dweezil and Frank Zappa.

3 April. Frank Zappa: Complete Recordings Illustrated by Trevor Robinson and Andrew Sparke was published in November 2021.

3 April. Interview with FZ "The '60s Mother Still Breaks Social, Musical Convention". From the San Francisco Chronicle, 10 June 1984.

2 April. San Francisco Chronicle, November 1987. "State-of-the-art Weirdness From Zappa", article on "strange video world of Frank Zappa".

2 April. Some reviews of the Italian book translations.
- Il Mucchio Selvaggio, 1986 September, Mother! by Michael Gray
- Raro!, June 2003, The Real Frank Zappa Book and Freak Out! by Billy James.

1 April. French Rock & Folk, three first issues from the year 1977:
- 1977 January : Zoot Allures
- 1977 February : Aynsley Dunbar
- 1977 March : FZ interview "A place in the sun", very good read, recommended

1 April. The first Italian youth magazine in the 60s was Ciao Amici. The October 1967 issue had a short news on the Mothers in London.

31 March. Very nice 2021 Japanese hardcover book w many pictures - Progressive Rock Live In Japan. Includes a lot of unreleased photos from the FZ & The Mothers 1976 Japanese tour.

31 March. Finnish Too Much Noise, issue 21 1988. Cruising With Ruben & The Jets CD reviewed in a rockabilly magazine.

31 March. Italian Buscadero set:
- 1988 March : Freak out with the Morticians
- 1990 February : Hot Rats
- 1991 October : Frank Zappa Beats The Boots (long and very good read!)
- 1993 December : The Yellow Shark (good, again)

30 March. Fresh Zappostrophe #146 from Czechia. Fanzine issued by the tireless Bohouš Jůza. Both the artistic design and the content are commendable. Special thanks to the article on afka.net.

30 March. Amercian celebrity gossip weekly In Touch, 17 January 2022. "Lady Gaga's Rock 'n' Roll Palace".

30 March. Baby Snakes DVD review. Italian monthly Classix!, November 2004.

29 March. Two issues of the Italian Big (a predcessor of the well-known Ciao 2001) from October 1967. News on the FZ and MOI visiting London. "The psychedelic sound of the Mothers of Invention won over the young English hippies, who carried Zappa in triumph through the streets of London and threw rose petals on his way." Nice.

28 March. Preposterous! by Scott Parker. Volume 8 of the series Frank Zappa On Stage. "Scott is producing a series of books that looks at all the recordings of Frank Zappa concert recordings that are circulating: setlists, special things that happened during the show, etceteras."

28 March. French Jazz Magazine, January 1994. Two-page FZ obituary.

27 March. Arf-Dossier #111, March 2022. The Mothers 1971 CD box, the rare pictures gallery, Andrew Greenaway (idiotbastard) from London, Peter van Laarhoven (United Mutations) from Belgium, vinyl bootleg releases.

27 March. More Beefheart. Italian Music & Arts, July 1992. "Captain Beefheart's Loony Magic Club Band".

26 March. Culture magazine UNI from Czechia, January 2022. 14 (!) page cover story on Captain Beefheart, including several translated lyrics.

25 March. Italian monthly Music. Album reviews:
- 1991 July : The Best Band You Never Heard In Your Life
- 1991 November : Make A Jazz Noise Here

20 March. Finally some Uncut not so remnants:
- 2018 October : Power To The People (We're Only In It For The Money)
- 2020 February : Frank Zappa: The Hot Rats Sessions
- 2020 September : An Audience With Archie Shepp
- 2020 October : The GTO's: Permanent Damage
- 2021 February : Captain Beefheart: Well, I Was Born In The Desert
- 2021 March : Zappa (DVD review)
- 2022 January : Frank Zappa: 200 Motels
- 2022 May : Frank Zappa: The Mothers 1971

20 March. More British Uncut remnants:
- 2013 March : Ray Collins 1936-2012
- 2013 July : Frank Zappa: A Token Of His Extreme (review)
- 2015 March : The Story Of Discreet Records
- 2015 July : Ringo Starr on 200 Motels
- 2016 January : Frank Zappa: Roxy The Movie (review)
- 2016 March : Pierre Boulez 1925-2016
- 2016 June : Who The Fuck Is Frank Zappa?
- 2016 October : Frank Zappa for President/The Crux Of The Biscuit (review)
to be continued

19 March. Inside intimate quantity of dried Uncut magazine remnants we found:
- 2003 January : Zappa Picks by Larry Lalonde and
Zappa Picks by John Fishman
- 2003 August : A Grandmothers Night at the Gewandhaus ad.
- 2004 January : "Jazz is not dead" albums ad
- 2004 March : The Torture Never Stops DVD ad
- 2007 June : Apostrophe and Over-Nite Sensation DVD ad
- 2009 January : Jimmy Carl Black 1938-2008
- 2010 January : 20 Best Music DVDs
- 2011 January : Paul Weller on "Peaches En Regalia"
- 2011 September : Wild Man Fisher 1944-2011
to be continued

19 March. Boulez Conducts Zappa: The Perfect Stranger review in British classical music magazine Gramophone, December 1984.

15 March. Twisted Sister's Dee Snider on US Senate hearings with Zappa in 1985. Classic Rock, August 2009.

14 March. FZ talking on December 31 1975 in Inglewood Forum, Los Angeles. The last concert of the US tour is about to begin. An European tour will follow shortly. Roy Estrada is back, it is nice to remember the year 1965. Ciao 2001, February 1976.

13 March. Interview with Captain Beefheart: "This is Captain Beefheart!". From Italian Ciao 2001, February 1978.

12 March. Gail Zappa obituary. Uncut, December 2015.

11 March. Three FZ obituaries, two from Sweden, one from Italy. All 7 December 1993.
- Arbetet "The freak fell silent"
- Svenska Dagbladet "Zappa left for his final tour"
- La Stampa "Addio Frank Zappa"

10 March. Two album reviews in Ciao 2001 August 1982:
- Tinsel Town Rebellion
- The Man From Utopia

9 March. Interview "The irrepressible recklessness of Frank Zappa" and concert review "The concert". Italian Ciao 2001, August 1982.

8 March. German film-music-culture magazine S!A!U!, issue #3 1978. Attendee story "Zappa's Privat Night" on Zappa's rehearsals at Circus Krone in Munich on September 8, 1978.

7 March. "But who are these jazzmen who blow for Zappa?". From French Jazz Magazine, June 1982.

6 March. In-house Warner Bros publication Circular, April 1975. The story " Groupies Ripped My Tweed" contains some funny facts about the Albert Hall court case in London.

5 March. Italian folded poster magazine Posterstory. April/May issue from 1981 is a giant Zappa poster with article, pictures and discography on the other side.

4 March. Italian Music, December 1992 - Zappa: The String Quartet.

3 March. "The Central Scrutinizer". With the brand new LP, "Joe's Garage", the mustachioed guitarist returns to mockery and social satire. The best weapons of him. We present the disc. An album-concept, and some controversy and significant Zappian statements. Ciao 2001, October 1979.

3 March. Thing Fish album review. British The Beat, April 1985.