Frank Zappa
By Joe Medjuck
---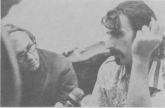 Uncle Meat, the latest lp by the Mothers of Invention, is described on the album cover as "Most of the music from the Mothers' movie of the same name which we haven't got enough money to finish yet." In a booklet that comes with the two-record album, Frank Zappa, founder of the Mothers, writes, "This film is stashed away in my basement, while we scheme on how to raise $300,000 to finish it and make it spiffy so it can be shown in your local teen-age neighborhood theatre. This is an album of music from a movie you will probably never get to see."
Though the film is still uncompleted, some of the out-takes have been shown at the Fillmore East during a concert by the Mothers. Recent plans called for a 14-hour unedited version of the film to be screened in New York with the audience paying according to how much film they'd seen.
Between sets at Toronto's Rock Pile [1], Zappa was interviewed about his career as a filmmaker by Take One Associate Editor Joe Medjuck.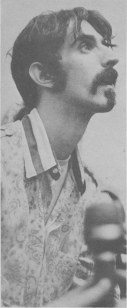 [Presuming that the people who are going to read this won't know anything about Uncle Meat, what would you like to tell them about the film?]
Uncle Meat is a surrealistic documentary about the whys and wherefores of our rocking teen combo.
[How long is it?]
It's probably about two hours.
[How much of it is completed?]
We've got about half done I guess.
[Are you shooting it in 16mm?]
Well, the stuff that I've already got done is in 16mm but I need about $300,000 to finish it off. I have to shoot some stuff in 35.
[Any chances of getting it distributed that you've heard of?]
Well I think that rather than show people little pieces of it the way it is now and let them get the wrong idea of what it is – I think I'm going to have to find another way instead of hyping a distributor beforehand.
[Are you shooting it yourself?]
I shot some of it myself, another guy named Ed Seeman [2] shot quite a bit of it and another guy named Don Preston shot some of it and other parts were like, uh, confiscated German news film.
[Did you use sync sound?]
Some of it's wild and some of it's sync.
[How did you learn how to use a camera?]
I've been using a camera for years.
[Could you say a bit about the plot.]
It deals with the conflicts that face an average middle-class sort of person who works for the government and does a bunch of things for the government that he's not proud of and can't tell his family what he's doing. See. Because he's doing a top secret project for the government. See. It gets quite complicated. In the album Uncle Meat, part of the plot is printed in a book that comes with the record and it would be better if you just take it out of that.
. . .
[How would you compare it to other people's films? Would you consider it revolutionary, or...]
I won't say it's revolutionary but it ain't like the Beatles' movie.
[Do you mean Lester's or Magical Mystery Tour?]
Ain't like any of 'em.
[Are there any directors whom you'd consider influences?]
I don't go to the movies, so I don't know anything about other directors.
[I heard a rumour that you almost did the music for Barbarella.]
Well, we were playing in London about two years ago and this guy came up to me and said that Roger Vadim had taken parts of the Freak Out album and was using them in a test score that they use before they get to the final dubbing on the film and he had used part of that in there and this guy Giorgio Gomelsky [3] said that he had spoken to Vadim about considering me to do the score. What he wanted to do was have three people score it simultaneously. He wanted me, Stockhausen and Paul McCartney to simultaneously score Barbarella. So he bought my manager and myself a ticket to Rome and we went there for a day and went to see the rushes on Barbarella and talk with Vadim about it. I was so depressed at what I saw, I wasn't too thrilled about it, doing the music for the thing. Fortunately they didn't ask me to.
[When do you expect to finish Uncle Meat?]
Well, a lot of that will be predicated by how fast I get the money to do the special work.
[Is the film in colour?]
Yeah.
[Are you editing yourself?]
Yeah.
[If you don't go to movies and you don't see other people's, why did you decide to make one?]
I like movies.
[Where do you see them?]
I watch the movies I make and I like them. I make little home movies. I've been doing it since about 1958. I started out using 8mm. In fact some of the things in 8mm are going to be blown up and incorporated into the film.
[Is the film going to be blown up into 35 eventually?]
That's right.
[Isn't it going to make the 8mm parts look, uh, strange?]
No they'll look real nice. They'll look exactly like they're supposed to.
[When talking to you about music I find it difficult to talk about classical and pop because you seem to break down the barriers between them.]
I don't think there should be any barriers. I think that art should belong to the people and not just a few people who think they're really specialists or something.
---
1. 23rd February 1969
2. Ed Seeman filmed FZ and MOI in 1967-68. Read more at www.edseeman.com/zappa
3. C.Ulrich: Giorgio Gomelsky was a manager and record producer. He worked with The Yardbirds, Soft Machine, Gong, and Plastic People Of The Universe.
Read by OCR software. If you spot errors, let me know afka (at) afka.net