Zappa – Outrageous Star
Allan McDougall worked for America's startling
New Musical Express, May 9, 1970
---
I WORKED for Frank Zappa's Straight Records in Hollywood recently. And the first time we met – after his manager/partner Herb Cohen had hired me as national promotion manager for Straight – Zappa and I had a huge argument – about love!
Zappa had summoned me to his creative headquarters in the basement of his house high up on Woodrow Wilson Drive in the Hollywood Hills. After discovering that we are both Sagittarius by birth-sign (coincidentally, for astrology freaks, most of Zappa's friends/associates/employees are Sagittarius), we spent a couple of hours throwing questions at each other about our respective philosophies, ideas and thoughts.

Getting around to the subject of lyrics, Frank asked me what did I think were the best lyrics ever written? I said McCartney's line near the end of Abbey Road: "And in the end the love you take is equal to the love you make."
To my astonishment, Zappa said a rude word and added: "That's absolute garbage. There's no such thing as love!"
Argued
We argued pretty fiercely over this, because I had just before fallen in love. We ended our first meeting agreeing to differ, but on reflection I wonder if perhaps this was just another example of Zappa's apparent big thing in life, which is to deliberately outrage people.
Outrage is absolutely his bag, as was illustrated perfectly in the heyday of the great Mothers of Invention.

The Mothers, and particularly Frank Zappa, were all brilliant musicians, but Zappa would hold them back and make them play loud, irritating, cacophonous bilge until the audience was so annoyed that it would get up and yell insults at them. Then Zappa would turn his Mothers loose and the audience would be stunned by the sheer technical brilliance of the musicians.

But sometimes the outrage would work in reverse. Frank told me that his biggest disappointment was when he came to lecture at the London School of Economics and all the students wanted to know was what was happening to "The Revolution" in America, and how were the Campus riots organised.
He told me: "Those stupid young English --------- wanted to copy the idiots here who think they can change the world overnight. Don't they realise that if there is a Revolution like they would have us think, it will fail because there is just no leadership for those kids?"
I tend to agree with him there. All the talk of revolution comes from the intellectual section of America, which is a tiny majority. President Nixon's famous "silent majority" is really vast and they really have all the power.
But if there could have been a revolution leader, it would probably have been Zappa! He is the most respected and revered figure on the Underground scene.
Francis Vincent Zappa, the businessman, is very aware of the power of Frank Zappa, the Image, and he quite successfully combines the business and image facets of himself.
Like he wears Levis, but they are always neatly pressed and laundered Levis. And his magic creative basement is within the facade of a respectable, upper-middle-class house.
He shares the house with his wife Gail, his daughter Moon Unit and his son Dweezil (whose full name is actually Ian Donald Calvin Euclid!). But he spends most of his time in the basement, which is worth describing since there can be no other like it in the world. It is about the size of a tennis court.
One wall is covered by a painting by Salvador Dalí, of a car on fire.[1] There's an enormous tape and stereo machine, the speakers of which stand over six feet high. A projection room is at one end, and the other end is where most of the composing takes place. Here is a concert grand piano, guitars, drums and a huge desk, which is generally piled high with manuscript paper.
Zappa wrote every note of music for his forthcoming " symphonic operatic ballet " called " 200 Motels, " which he scored for about one hundred instruments. There are reels and reels of record master tape (he reckons there is enough material for a further 20 Mothers LPs) and over twenty hours of movie footage.
As usual, Frank Zappa is engaged on several projects at once. He's reformed the Mothers of Invention for a few gigs, the principal one of which is next week in Los Angeles when Zappa will conduct his band. plus the Los Angeles Philharmonic orchestra, through the public debut of "200 Motels."
Next album
He is readying the next Mothers album, to be called "The Weasels Ripped My Flesh Off," and preparing to do a "Live At The Fillmore" album. He is routining his close friend, Captain Beefheart, for what he describes as a "Bluesey Beefheart" album.
And he is editing his twenty hours of film down to a two-hour movie, to be called "Uncle Meat." Zappa is being assisted in this by the Maurice/Wadleigh team, who did such a great job in editing about 120 hours of "Woodstock" into a concise three-hour film.
"Uncle Meat" will have a stereo soundtrack, composed by Frank Zappa, and will include film from the early days of synthetic ''shoo-be-doo-bop" pop, film of The Mothers – on stage at The Albert Hall and looning outside Buckingham Palace included. It should be released in America in mid-summer.
Frank is certainly the busiest man I ever met in this, or any other business. I cannot honestly say that I either like or dislike him, but with Zappa this is irrelevant. You don't have to like him, but you do have to admire him, because he really pioneered the progressive music scene, which has given rock music a whole new lease of life.
---
1. Charles Ulrich: "Note, however, that the painting in question is not by Salvador Dalí, nor does it depict a car on fire!"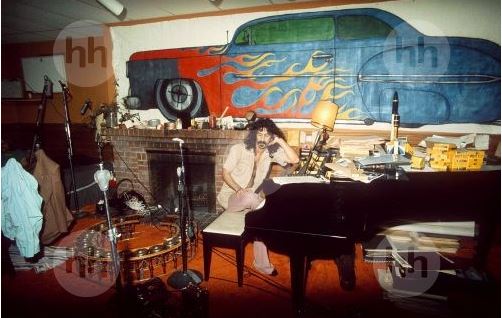 Read by OCR software. If you spot errors, let me know afka (at) afka.net