Audience zapped by Mother's clean, sharp music talents
By Zak Mmray
San Francisco Foghorn, October 9, 1970
---
Time is all-important in the performance of music, and history plays a part in listening to music. The stenographer and I have a desire for music that is present tense, and as restfully aware as future perfect. So we went to Pepperland in San Rafael to hear Frank Zappa and Tim Buckley. We had a little of both and a little of nothing.
Pepperland is an extremely spacious, clean, and intelligently arranged dance-concert hall. It has a low stage, which makes it quite easy for everyone in the hall to see the performers clearly and virtually eliminates the problems in front suddenly rising in homage to the music and obscuring everyone else's view.
The P. A. speakers are placed at strategic points throughout the hall, ostensibly producing a presence to the music far surpassing any other hall, and theoretically rendering the music more intelligible, tonally and structurally. In fact, however, the balance was very poor that night.
Architecturally, there is a bit of the inevitable Day-Glo constructions and murals extant, but most of the hall resembles a cross between an automobile showroom and Jules Verne's cerebral cortex – very metallic and geometrical. In fact, at one time it was Jules Verne's cerebral cortex.
At any rate, the first band, Kindred, came on around 8:30. Suffice to say they're a shotgun marriage of Delaney and Bonnie vocal harmonies and 1965 San Francisco psychedelia. One could say more, I imagine, but ... well, I'll let them speak for themselves. When the P. A. system mysteriously failed during their set, the statuesque chick singer bleated, "Why us?"
There is at present a small number of rock musicians beginning to explore the territory first encountered by the avant-garde classical composers and jazz musicians. Tim Buckley has recently decided to be one of these. He utilizes his voice as an instrument in itself, relying neither on coherent lyrics nor, more importantly, on consonant, harmonious note patterns to achieve his music. He will yodel, scream, or whoop in turn. He will sustain a high screeching vibrato that slides slowly down to the next note, or snap from one note to the sixth or seventh of that note and back again in quick succession, again and again.
Stylistically, he is immediately derivative of Leon Thomas, the black vocalist, but like Thomas has probably listened and learned from such front-guard horn men as John Coltrane and John Gilmore. I don't think he has fully developed his technique, but he does what he knows excellently. The same is true of his instrumental arrangements. Whoever arranges in his band – whether he or someone else – is mighty good. They don't have the tonal and rhythmic range of, say, the Mothers, but in free improvisation they were excellent.
The brass usually played free, but sometimes played basso ostinato; that is, a figure repeated over and over. They were nice, hard, cooking lines, setting off the jabberingly dissonant guitar lines and free-for-all drumming. They were tight, fast, and powerful, and that's where music, especially rock music, is going.
Frank Zappa and the Mothers of Invention are also where rock music is going, but, unfortunately they are also where it's been. After the little talk with Mr. Zappa, in which he said he was "doing something different now" (see "FRANK ZAPPA TALKS IN THE GENERAL DIRECTION OF ZAK MMRAY" p. 124), I was curious to see what exactly that might be. After listening to his band, which remains one of the best bands ever, I perceived that "something different" meant "different arrangements."
The Mothers previously had as many as ten pieces at a time.
The Mothers now consists of two keyboard men, Ian Underwood and George Duke, who also double on horns, though not often; Aynsley Dunbar, previously with John Mayall and his own group, on drums; Jeff Simmons, from Seattle and now recording off Zappa's Bizarre label, on bass; Zappa on guitar, and Howie Kaylan and Mark Volman, formerly of the Turtles, you read it right, vocals.
In this smaller context, with horns used little if at all, Zappa could have arranged, composed, and played in a much different manner than in previous bands. Instead, he merely transposed the horn parts from already composed work to guitar or keyboard, and rearranged tempos and harmonies in some parts of his old songs. A good example of the former exercise on Saturday night was his 7/8 composition "A Pound for a Brown on the Bus," from "Uncle Meat." Previous to that they played "Call Any Vegetable" with the second exercise being obvious.
Now, I felt very ambivalent about what I heard. For one thing, some things I could not hear, due to lousy balancing of the P. A. that rendered Zappa's voice virtually inaudible, and to Aynsley Dunbar's drumming, which overwhelmed the keyboard work. At any rate, I was, as I say, ambivalent. On the one hand, it was great music, played perfectly by a great band, and written and arranged by a great composer, The score was amazing, they were tight, they could sing through Ovaltine, etc. And yet, there was Frank Zappa reciting the whole grocery list from "Call Any Vegetable." There were the Mothers doing a 1950's rock and roll parody, and so on.
I expected more than cultural clichés and yesterday's cold baked bean music from someone who can write astoundingly beautiful and horribly inventive music.
When Mr. Zappa introduces "200 Motels" with "This is the story of a typical rock and roll star and his groupie" I must think, "Yeah, so what?" The constant hammering at hackneyed topics like a jackhammer with an idée fixe is boring and makes me giggle with impatience.
There was no surprise, no experiments, no tight-rope walking; just a Möbius strip of historical sound turning back on itself. It all sounded good, but it should have been different. It was as the Stenographer said: "He's a great musician, but he's no alchemist." I thought of Anatole France's statement: "Whenever I read someone like Rimbaud, I feel disgusted with my own work, which is merely culture."
The folks at Pepperland whooped and pooped at the inevitable insult from Zappa, and unknowingly watched it zip over their heads and mutate into the merest of cultural commodities.
---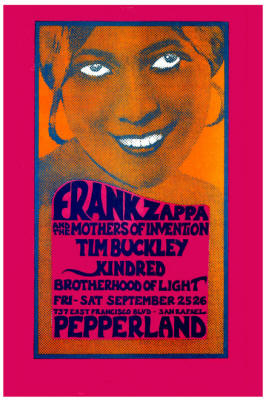 This review is on Zappa's concerts in Pepperland, San Rafael, September 25-26 1970.
The band was: Frank Zappa, Mark Volman, Howard Kaylan, Jeff Simmons, Aynsley Dunbar, George Duke, Ian Underwood.
Setlist: Call Any Vegetable, Pound For A Brown, Sleeping In A Jar, Sharleena, The Air, Dog Breath, Mother People, You Didn't Try To Call Me, King Kong, Lonesome Cowboy Burt, Penis Dimension, Bwana Dik, Little House I Used To Live In, Mudshark, Would You Like A Snack?, Holiday In Berlin, Cruising For Burgers, Wino Man, Willie The Pimp, Concentration Moon, Mom & Dad, Daddy Daddy Daddy, Do You Like My New Car?, Happy Together, Who Are The Brain Police?
Another nice writing on this event by 00individual.
Read by OCR software. If you spot errors, let me know afka (at) afka.net