Rock Minstrel's Life Not Rosey
By Kim Rogers
Florida Flambeau, October 12, 1970
---
Endless hours spent traveling, jam sessions, the tangle of performances and packing – all are part of the life of a successful rock musician.
Friday night's show of Frank Zappa and the Mothers of Invention and the Allman Brothers Band was no exception. [1] Members of both groups drifted in and out of the Tully Gym faculty lounge, where Frank Zappa slept for over an hour, twisted on a small couch, oblivious to the hubub surrounding him. [2]
Bits of equipment, shaving kits and bright, soft shirts and clothing were scattered around the room. Available space was filled with a polyglot of chairs and people.
"We play free music," said Gregg Allman when questioned about his group's musical format. "We try to have it as free as possible."
Allman has been involved in rock music for 11 years. "I always dug Texas blues," he said, "and dig all kinds of blues now. As a vocalist, I've been influenced by people like Bobbie Bland, Little Milton, and T-Bone Walker."
As to the direction rock music is taking, Allman said that it's "kinda getting weeded out. The bullshit things are falling by the wayside – bands that aren't really playing music aren't making it."
Bass player Berry Oakley of the Allman Brothers characterizes the band's music as "whole, and spontaneous. It's like everyday living, like conversation."
"Our songs are about getting messed up, love troubles, the kinds of troubles most people seem to have," he said.
Work with the band, Oakley admitted, wraps up most of each member's time. "That's all we do," he said. "If we're not practicing or playing, we're going someplace, or making arrangements to make a record."
Mark Volman, formerly of the Turtles, has been with the Mothers of Invention for "about five months. The Turtles went into subversive retirement," he explained. "And Frank asked us to join the group, and now we interpret Frank's work."
An interesting area of a rock musician's life is roadwork – the stop and go of filling engagements. Volman listed as some of the better aspects "traveling with the groups we work with, being with new people, and seeing old friends in other groups."
"There's something about touring that creates a stimuli that leads to creating," said Volman. "Often your best work comes from a hotel room at 4 a.m. with an acoustic guitar."
Writers and performers that Volman likes to hear are Joni Mitchell, Neil Young, Steve Stills and Tim Hardin.
Another ex-Turtle, Howard Kaylan, has worked with Volman for over 10 years. "Mark and I used to sing in choir together," he said.
Terming working with the Mothers as "having an opportunity to work with one of the top weirdos in the world," Kaylan said. "We couldn't hack living up to the successful rock band image. It got so everyone would say about anything we did, "let's make this another "Happy Together""'.
Other artists that appeal to Kaylan are Cat Stevens, Joni Mitchell, and John B. Sebastian. "These people I dig on a personal level," he said. "On a person-to-person basis first, and as an artist second."
"Frank is definitely doing something to rock music," he said. "He's broadening it on every horizon. He keeps a very tight ship. The roots of much of the music are classical, and things that sound the most chaotic are the most planned of all."
'What we're doing is laying it down," Kaylan said, "and getting to the whole paradox of what makes people want to be whipped."
When asked as to what directions his reconstructed band is now taking, a barely wakened Zappa replied that there are more vocals now than in the past. "We're more entertaining, more accessible," he said.
As to the directions of rock music as a whole, Zappa said that "Every group goes its own way, and other groups follow. If one group uses tinsel on the stage, then everybody uses tinsel on the stage."
"I use jazz in my music just because it sounds good," he said. "I have had lots of blues and classical influences."
"Our music is highly structured," he said. "The skeleton of the show is carefully constructed so that all of the show stays together. There's plenty of improvisation in it, though."
Zappa listed as influences on his music Clarence Gatemouth Brown, Johnny Guitar Watson, Guitar Slim and Lightnin' Slim.
One complaint that Zappa had was the requirement in the group's FSU contract to refrain from "indecent exposure" and the use of profanity on stage. "It's what comes from a socially retarded area," he said.
"I guess they thought we'll be turning into werewolves on stage," he said, adding that the group would later take an oath during the concert, to refrain from conduct prohibited by the contract.
When asked for his reaction to working college audiences, Zappa replied that "The only thing different about playing a college is that you always wind up in a gymnasium.
---
1. Concert in October 9, in Tully Gymnasium, Florida State University, Tallahassee, Florida.
Charles Ulrich: No audience tapes of this concert are known. But "The M.O.I. Anti-Smut Loyalty Oath" was released on YCDTOSA 6.
2. Javier Marcote: This photo of FZ laying in a couch in Tully Gym faculty lounge is taken from Babelia, January 30, 2016.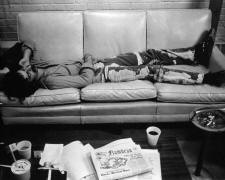 .
On the picture you see Florida Flambeau from October 9, 1970.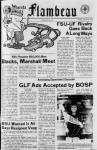 Read by OCR software. If you spot errors, let me know afka (at) afka.net