Frank Zappa and the Mothers at the Riverside – 4/23/74
By B.P.
---
Last Monday night a friend of mine decided to take in drink 'n sink at Hanna's [1]. While there he came upon a curiously familiar teenage idol, carrying a miniature violin case, obviously also taking advantage of the evening's festivities.
The two questions most asked by the more altert numbers who recognized the teenage king were "Can I have your autograph" and "Is that a real poncho you're wearing or a Sears poncho?" Most likely the question most asked by our teenage idol was "Flo & Eddie played in here?"
Yes, for all the rumors that had Zappa jamming in one bar in the city or the other, he ended up here for sure at Hanna's, just taking in a quiet night in our fair city.
The following evening Zappa and another bunch of Mothers put on two solid performances at the Riverside with Dion as opening act. Both shows were different and both Zappa sets went close to two hours solid. The place was packed. Dion opened the second show with a collection of his long string of hits that reaches back to "Runaround Sue" and goes up to "Abraham, Martin and John," one of his best from a few years back. His delivery was excellent but it seems the in attentiveness that greeted his set in the first show marred his attitude in the second. Even though the audience helped him out on the singalong and was generally receptive during the second show he didn't do an encore. The time element hopefully was the reasoning.
The newest combination of Mothers then took the stage, followed shortly by their leader, the same teenage idol already mentioned, looking more like a stringbean than ever, enhancing his physique with a full cut Copacabana shirt. He didn't auction away any of his clothes during this show. After a quick introduction of his band, Frank and the Mothers embarked on the first of two medleys that were to run close to an hour each. In one of the short pauses during the first, Zappa acknowledged a cry for "Camarillo Brillo" and it was here that one began to realize just how good the Overnight Sensation material could be. The extended break punctuated by some really fine guitar work by Frank made the live performance of "Camarillo" and several other new numbers much more exciting than their studio versions. Maybe a key to that excitement was the Mothers' visual experience, absurdo plus and always right-on-the-money punctual.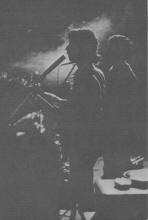 The overall presentation blended a wide variety of Zappa and Mothers material well, reaching back in the trash for such unforgettable melodies as "Who Could Imagine" and a short quip of "Suzy Creamcheese" now "Georgy Creamcheese," interlaced with the newer stuff, like "Cosmik Debris" and "Excentrifugal Forz" from Apostrophe. Zappa's guitar work was his most impressive to date, his nine piece collection of Mothers superb. Don Preston was there on moog and hung pig, a Mother since way back. George Duke was Preston's keyboard complement. Napoleon Murphy Brock turned in one of the hardest working performances I've ever seen on a stage, handling the zany Zappa lyrics as lead vocalist and doubling on sax. The Fowler brothers rounded out the horn section with another Fowler, Tom, on bass. Ralph Humphrey handled half the drums (the other half is the only name I missed. Sorry 'bout that.) and Jeff Simmons backed Zappa on rhythm guitar and harp. Everyone had a chance to solo and as a unit handled the full scope of Zappa's complex transitions with graceful professional pizzaz.
Frank Zappa is the Kurt Vonnegut of music. His humor goes beyond satire into black humor, asking all of you out there to laugh along with his famous mythology. At the same time he and his Mothers are offering some pretty fine musical moments. The best of both were in evidence at this performance.
---
1. Charles Ulrich: Perhaps Humpin' Hanna's had a special price for a drink and a game of pool on certain nights. You can see some of their posters at milwaukeerockposters.com.
Read by OCR software. If you spot errors, let me know afka (at) afka.net