A Unique Musical Force or Blasphemous Freak: Which Is Frank Zappa?
By Rip Rense
The Valley News, Van Nuys, CA, June 27, 1976
---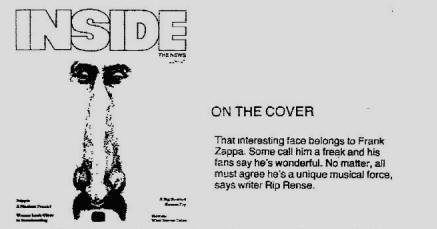 Frank Zappa doesn't want articles saying he's wonderful – just articles telling what he's up to.
"I think there should be running reportage on what my activities are because I'm working all the time. A public service for people who like what I do to let 'em know so they can check it out."
That Zappa is wonderful is a subjective judgment reserved probably for Zappa's God. And while his fans know him as a unique and uncompromising artist, other people think differently.
To them Zappa is the weird looking freak who has released albums, "Freak Out," "Hot Rats" and "Weasels Ripped My Flesh"; the guy from the Mothers of Invention who calls television "slime"; the uncouth – no, that blasphemous immature person who sang pornographic spoofs on rock groups, groupies, old dowagers, and poodles.
He's the man who composed a full ballet, "Lumpy Gravy," the same year the Beatles composed "Sgt Pepper"; the man who last year assembled a symphony orchestra, jazz band, and expanded percussion section to perform his own orchestral creations; the man who was parodying rock and roll in 1962 ("Ned and Nelda" for "Paul and Paula"); Me the man who taught himself to play about a dozen instruments, to conduct and compose by listening to Stravinsky, Edgard Varèse, Anton Webern, and reading books; or the man who plugged away, making strange, abstract but original and creative music for about 10 years to become what he is today.
He's a unique musical force of our time; a driven worker, sometimes sparked by a little genius, always helped along by an uncanny eye for the phoney, and a bitter wit to make his lyrics coarse, sardonic, and biting; a man who seems to know exactly who he is, what he is, and how he got there.
After a description like that, who would accept Zappa as anything but peculiar?
"A lot of people who don't go to concerts find out about me from the work of people like you, who write things, and you can't make a reputation by writing something nice about somebody," he said last week. 'That don't work in this business. The only ones who stand out are the ones who snide out. I'm a likely candidate because I'm threatening to anybody. I scare the s--- out of people. I don't try, but I do."
Zappa was speaking from his suite in the Beverly Hilton Hotel; where he gave a preview screening of a remarkable videotape creation, "A Token of His Extreme."
"And so, the accumulation of things that have been written about me laid end-to-end is mostly horrible stuff. Anything that people know about me comes from a poster of me sitting on a toilet, or something that they read someplace. But I don't think any rational person with eyes and ears can look at a show like this or listen to one of the albums and think that it's crappy."
"A Token of His Extreme" is not crappy. It's a live performance of the Mothers incarnation of about two years ago, with George Duke (keyboards), Napoleon Murphy Brock (vocals, saxophone), Ruth Underwood (percussion), Tom Fowler (bass), Chester Thompson (drums). (Non-Zappa followers should be apprised that Mothers personnel and style change constantly).
The tape shows the group playing about one hour's worth of material for a small audience. Zappa and associates have dressed it up with special color tinting, double exposures and triple exposures all timed to accentuate the music. Interspersed with the performance are amazingly intricate clay animation sequences done by Bruce Bickford.
The creation's been shown on European television, but has yet to be bought in the U.S.
"It's too good," Zappa says. It's right for educational television, but Zappa said he would settle for "any station – just as long as it gets shown." Even, he agreed, with commercials by Cal Worthington.
The latest Mothers are Zappa plus three, with Ruth Underwood a "possible" return. Their rock and roll event, "Night of the Iron Sausage," is due in September, with Terry Bozzio on drums, Eddie Jobson (Roxy Music) on violin and keyboards, and Patrick O'Hearn on bass while Zappa plays guitar, bass and keyboards. A U.S. tour is planned for the fall.
Before the release of "Sausage," Zappa will unleash a recorded performance of the Abnuceals Emuukha Electric Symphony Orchestra; a "classical" album of avant-garde Zappa music.
Critics called the orchestra performance last year at UCLA's Royce Hall an "interesting exercise – much like a child experimenting with a toy." The audience and orchestra, made up of prominent Los Angeles musicians and conducted by Michael Zearott, thought differently. There were standing ovations.
The music was sometimes dissonant, sometimes nothing more than fragmented rhythm exercises of orchestral color and texture, but always engrossing. Zappa's two remarks:
On critics – "---- them."
On the performance – "I had a few laughs."
Many who have interviewed the enigmatic Zappa play up his so-called eccentricities – dismissing his music as "unlistenable" and his sarcasm as silly. He's invariably called a rock and roller, and some insist on clinging to the clichés of how he has "bridged" several musical styles, creating a "marriage" of jazz, rock, and orchestral sound.
Call it what you will, Zappa's music is his own creation. It is unlike anything else in any genre. Witness the Grand Wazoo Orchestra, an avant-garde jazz-rock orchestra that played music which would probably be very popular on Pluto. Frank's sound is an amalgamation of simply anything he likes.
Asked how he sees himself in relation to other musicians, like composer Edgar Varèse, he said "I think we work for the same company." He claims to have listened to Stravinsky's "Rite of Spring" more than "any man in the world". He is now finishing what he calls "probably one of the great pieces of music of our time" – ''Greggery Peccary" – a mysterious work under construction for several years.
Why, then, did Zappa produce the next Grand Funk album, "Good Singin', Good Playin' "?
"Because they're great ------- singers. They liked the way I produce. They heard 'One Size Fits All' and called me up."
The album, due in August, is straight, driving rock and roll "with balls," Frank says, and added he would produce them again in a minute.
"They're the great undiscovered band in the world. They're really good people. They've got a great sense of humor. In fact, they're about the only rock and roll people in the industry I enjoy hanging out with."
Zappa is indeed a disarming figure as is anyone who knows himself inside out and likes what he sees. His stare is intense and unwavering, penetrating and incisive. He knows people, and has a built-in analytical system that seems in constant use. His opinions are sharp and instantaneous.
On America:
"There still are certain freedoms available to a person in the United States. It's not quite as gloomy as people make it out to be. It doesn't get bad until they strap that metal helmet on your head that makes you think 100% the way they want you to. Just convince yourself they don't have your hat size."
On today's youth:
"A lot of the younger generation isn't too competent. In fact, they're less competent than the old people; much less disciplined, they don't have as much self-discipline; they're weak people. They'd rather just ---- around. Don't seem to have much in the way of a sense of responsibility. They've been trained that way – by the educational industry."
Advice to youth of tomorrow:
"I think they should practice Chinese jump rope. Ever see that? Go research Chinese jump rope. It's the latest rage at grammar schools. One of the weirdest games you ever saw in your life. Chinese jump rope builds coordination and character. Investigate it soon."
Dislikes:
"Stupidity, inefficiency, and incompetence. Which I have to deal with right now. I've got to give some chump in the lobby some money."
Zappa says he will be playing and composing the rest of his life. His life is his work, and his work is his greatest pleasure. Does he ever miss walking on the beach, smelling salt air?
"Nope. If I want to go to the beach, I'll get a post card. Have you ever spent 20 hours in a recording studio? I love to."
When at home in Laurel Canyon with his wife and three kids, Zappa said he has no time for work. He likes to "hang out" with his kids at their grammar school.
Perhaps the most amazing thing about the modern music mother of invention is his attitude on goals. Asked what his long or short term objectives are, musically or personally, or if he had any, the disciplined, prolific Zappa replied:
"Nope. Just want to have a good time."
He might not be wonderful, but his artistic conviction is. His music will be around for some time. Investigate it soon. Along with Chinese jump rope.
Read by OCR software. If you spot errors, let me know afka (at) afka.net