Zappa's Entertaining Concert
By Scott Beach
San Francisco Examiner, June 18, 1984
---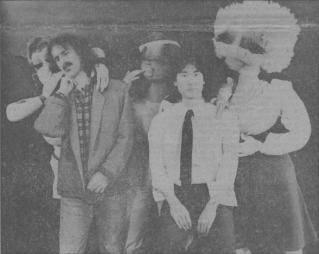 Frank Zappa, left, and Kent Nagano with dolls from 'Zappa Affair.'
AS I WAITED to enter Zellerbach Hall, a young man stepped up to me and asked: "Do you know where I can check my monster?" His right arm was occupied by a 2-foot-long Gila monster, with reddish eyes and a busily flickering tongue. He was on his way to the same concert I was there to cover, which would feature a suite of works by Frank Zappa. Somehow, it didn't seem a bit surprising that a patron at such an event would show up bearing a live monster.
I suggested to my lizard-bearing petitioner that he step to the box office and ask where they check monsters. He thanked me most genially, and off he went.
Inside, Saturday evening, the Berkeley Symphony, with a considerable augmentation of percussion and brass, filled the pit and overflowed onto the sides of the stage. The crowd was in a state of excited anticipation, and I glanced through the printed program with the same kind of feelings. I was there to see and hear the U.S. or world premieres of Zappa's "Bob in Dacron/Sad Jane," "Mo 'n Herb's Vacation," "Sinister Footwear," and "Pedro's Dowry." The second of those spectacular works, by the way, included a far more monstrous monster than the critter mentioned above. It was called the "Decamorph," and was a thing of many, many organs (10, to be precise) that got chopped to bits when The Gossamer Brothers swung their vorpal swords.
Conductor Kent Nagano has collaborated with Zappa in several previous eruptions, and he proved himself a fine leader in this program of frolics for dancers and life-size puppets. Some of the latter, indeed, were larger than life, i.e., the Decamorph. Just before the first number, out came Zappa, himself, to deliver an admonition: "This stuff is entertainment, nothing more."
He was right, mostly. There was definitely a lot of entertaining work by the orchestra and by the people on the stage. The several pieces on the bill featured some hilarious satires on various human foibles, and there were plenty of laughs.
The production was designed and directed by John Gilkerson, with choreography by Tandy Beal and Joan Lazarus. Their work was outstanding. The dancers must surely have had a marvelous time as they put this show together.
If "A Zappa Affair" has any troublesome flaw, it's mostly a simple matter of too much of the same in one basket. Any one or two of those pieces would do exactly what Zappa said when he announced that "This is entertainment." But things began to run together as the program proceeded.
Zappa's music for this concert is definitely interesting, and it's surely a considerable challenge for the musicians to play. I believe, though, that he hasn't yet found his own way of expressing himself in symphonic terms, but that he'll surely make great strides toward a unique personal statement, as he continues to produce. He's a clever composer. Someday, he may become a good one.
Kent Nagano definitely merits great praise for his conducting in this program. He handled an extremely challenging score with surpassing skill, and much of the success of the show is due to his excellent work.
Stephanie Zimmerman is to be congratulated for her imaginative work in putting "A Zappa Affair" together. It's an example of exciting and worthwhile theater, and it surely gave the audience a lot to remember fondly.
---
Read by OCR software. If you spot errors, let me know afka (at) afka.net