Frank Zappa
Meadow Brook Music Festival catalog, August 1984
---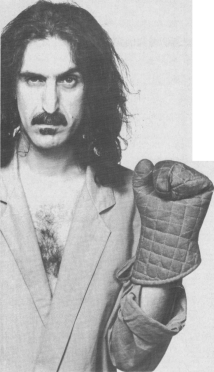 Frank Zappa was born in Baltimore, Maryland on December 21, 1940. He attended schools in Maryland and California. He has a high school diploma (just barely) from Antelope Valley High School in Lancaster, Calif.
He went to Chaffey Junior College in Alta Loma, Calif. for six months and quit. His musical education came from the public library, listening to records, and playing in bars.
He started making films in 1956, with an 8mm camera belonging to his father.
After earning a small amount of money by writing music for a cowboy movie, he bought a recording studio in Cucamonga, California in 1962. He founded his first independent record label in 1969 (BIZARRE), followed by several others (DISCREET, ZAPPA, and his current label, BARKING PUMPKIN, distributed in the U.S. by M.C.A.).
He has been married twice. His second wife, Gail, has managed to put up with him since 1966. The Zappa's have 4 children: MOON UNIT (16), DWEEZIL (14), AHMET EMUUKHA RODAN (10), and DIVA THIN MUFFIN PIGEEN (she made up the Thin Muffin Pigeen part herself) (4).
The 'PUBLIC FRANK ZAPPA' has sustained one of the longest, most prolific careers in the field of pop music.
The 'PRIVATE FRANK ZAPPA' is a SCIENTIST OF THE ABSURD, performing mysterious experiments in the laboratory of THE UTILITY MUFFIN RESEARCH KITCHEN.
(The uncontrollable spread of 'VALLEY GIRL-ISM' is a classic example of the U.M.R.K. 'PROGRESS THROUGH RAW, UNBRIDLED IGNORANCE' research program).
Q: You have been accused of being 'abnormal' ... are you?
F.Z.: Of course. If we consider what most people accept as 'normal behavior' in America today ... stuff like Video Christian fanaticism, drug abuse, enthusiasm for tennis or other activities which cause orange hair, then I definitely qualify for 'abnormality.'
Recognized as an influential force in many musical realms, Zappa, starting in 1964 with his infamous 'MOTHERS OF INVENTION,' has continued to provide refreshing alternatives to a long list of behavioral abberations afflicting our society as a result of 'Corporate Rock' pollution.
Q: How does one go about providing this sort of ridiculous 'Alternative Entertainment'?
F.Z.: Projects usually begin as self-financed ventures through my company I.C.A. (Intercontinental Absurdities).
Albums and tapes are released by BARKING PUMPKIN RECORDS (the world's 'most amusing ALL DIGITAL TINY LABEL', featuring exotic 'optional entertainment' for the discriminating individual).
Almost everything that comes in is re-channeled into these projects, for equipment and salaries for musicians and technical staff.
If a project is VERY successful, I use the profits for more elaborate enterprises. If it doesn't do well, I proceed with whatever is affordable at the time.
BARKING PUMPKIN is a nice little record company that does what it's supposed to do: provide 'Specialized Digital Audio Gratification.'
Q: BARKING PUMPKIN released an album earlier this year featuring the London Symphony Orchestra in performances of your ballet music. Do you find yourself leaning more towards this type of music in the future?
F.Z.: I would PREFER to work in that medium rather than rock & roll, but you can't earn a living doing that ... this is INDUSTRIAL AMERICA in the FUNLESS '80's, remember? I still enjoy making rock & roll records, and have no intention of getting a tuxedo or a conductor's baton grafted onto my body.
Q: Do you have plans for more projects like the LONDON SYMPHONY ORCHESTRA ALBUM?
F.Z.: I don't owe my existence to any 'outside force' other than the audience that buys records and concert tickets. Because of this, the audience is directly responsible for determining what gets completed next.
ZAPPA's deranged wit, social commentary and commitment to craftsmanship has produced a body of work that includes 39 album releases (many of them doubles, two triple boxed sets, and the recently released 7 disc set of early MOTHERS OF INVENTION ALBUMS), over 200 vocal songs, 91 instrumental works, 32 compositions for orchestral & choral groups, 4 ballets, 2 feature films, and 2 video specials.
Having been acclaimed a genius for his consistent achievements as a composer, conductor, guitarist and record producer, he comments: "Don't hold it against me."
He continues to explore new territories. For the past two years he has been lurking on the fringe of the 'serious music world,' producing an album of computer music and performances of his chamber works, conducted by Pierre Boulez. ("THE PERFECT STRANGER," to be released by Angel/EMI in August '84).
He started a mini-career as a lecturer with his keynote address to the American Society of University Composers at Ohio State and a spectacular evening at San Francisco's Exploratorium, using digital tapes. During that two-year period, an assortment of serious music ensembles tried their hand at performing some of Zappa's 'non-rock' compositions. The world premieres of "THE PERFECT STRANGER," "DUPREE'S PARADISE," and "NAVAL AVIATION IN ART?" were conducted in Paris by Pierre Boulez in January, followed by U.S. premieres conducted by Christian Badea with the Columbus Symphony, Jean Louis LeRoux with the San Francisco Chamber Symphony, and the infamous world premiere of "WHILE YOU WERE ART" by a chamber ensemble from Los Angeles called the E.A.R. UNIT).
On June 15 and 16, Kent Nagano conducted the Berkeley Symphony in the world premiere of "SINISTER FOOTWEAR," and the U S. premieres of "MO & HERB'S VACATION," "BOB IN DACRON & SAD JANE" and the large orchestra version of "PEDRO'S DOWRY."
The pieces were presented at Zellerbach Auditorium in Berkeley with extraordinary ballet staging provided by John Gilkerson's SAN FRANCISO MINIATURE THEATER, using dancers and larger-than-life puppets.
Somewhere in the midst of this, Zappa wrote a book ("CHRISTMAS IN NEW JERSEY"), prepared two Broadway Shows ("THE WORKS" and "THING-FISH"), and recorded a few albums ("THEM OR US," a rock double lp, "THING-FISH," a 3-disc box set of the original cast recording, "THE OLD MASTERS, BOX ONE," a 7-disc box set of digitally refurbished masters of the early MOTHERS OF INVENTION recordings, and "FRANCESCO," a computer-generated rendition of compositions written between 1766 and 1788 by an obscure contemporary of Mozart named Francesco Zappa).
Frank Zappa returned to the 'real world' on July 17 with an exciting new band (NAPOLEON MURPHY BROCK, vocals and saxes, IKE WILLIS, vocal and guitar, RAY WHITE, vocals and guitar, BOBBY MARTIN, vocals, keyboards and sax, ALLAN ZAVOD, keyboards and exotic dancing, SCOTT THUNES, bass, and CHAD WACKERMAN, drums), beginning his 1984 "20th Anniversary World Tour" with a week at Los Angeles' Palace Theater (as an alternative to The Olympics).
Read by OCR software. If you spot errors, let me know afka (at) afka.net