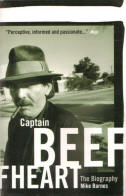 Captain Beefheart

Omnibus Press, London


2009
ISBN 978-0-7119-4134-2
408 pp, paperback, 20 x 13 cm
English
---
No doubt that this is the essential Captain Beefheart biography book, reissued several times. Here in detail we describe the 3rd UK edition from 2009. The newest revised edition was published in 2011 following Don Van Vliet's death, containing some new material.
This book starts with a quote from Frank Zappa:
Without being kicked in the butt he would never have started singing, he was too shy. (International Times, March 1977)
Overview of different editions
2000
Quartet Books
Paperback
396 pp
ISBN 9780704380738
First UK edition.
2002
Cooper Square Press
Hardcover
393 pp
ISBN 9780815411901
First American edition. New material and new photos added.
2004
Music Sales Limited
Paperback
400 pp
ISBN 9781844494125
2nd UK edition.
2009
Omnibus Press
Paperback
408 pp
ISBN 9780711941342
3rd UK edition
2011
Omnibus Press
Paperback
415 pp
ISBN 9781780380766

Revised edition!
4th UK edition
Following Don Van Vliet's death Mike Barnes will look to reassess his legacy through new interview material and with reference to reports and eulogies that appeared in the media.
He will also be putting Van Vliet's reclusiveness over the last two decades in context, now that it has been officially revealed that he was suffering from MS - his friends and representatives has always denied that he had a long term illness.
Reviews
Review by Julian Cowley (The Wire)
Goodreads reviews
Bookshops