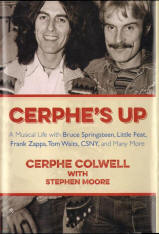 Cerphe's Up:
A Musical Life with Bruce Springsteen, Little Feat, Frank Zappa, Tom Waits, CSNY, and Many More
with Stephen Moore
Carrel Books


2016 November 15
ISBN 978-1631440526
296 pp, hardcover, 23 x 15,5 cm
English
---
Cerphe's Up is an incisive musical memoir by Cerphe Colwell, a renowned rock radio broadcaster for more than forty-five years in Washington, DC. Cerphe shares his life as a rock radio insider in rich detail and previously unpublished photographs. His story includes promotion and friendship with a young unknown Bruce Springsteen; his years at radio station WHFS 102.3 as it blossomed in a new freeform format; candid interviews with Little Feat's Lowell George, Tom Waits, Nils Lofgren, Stevie Nicks, Crosby, Stills & Nash, Steven Van Zandt, Robert Plant, Danny Kortchmar, Seldom Scene's John Duffey, and many others; hanging out with George Harrison, the Rolling Stones, Van Morrison, John Entwistle, Jackson Browne, and many more; testifying on Capitol Hill with friend Frank Zappa during the "Porn Rock" hearings; and managing the radio syndication of both G. Gordon Liddy and Howard Stern. Player listings and selected performances at legendary DC music clubs Childe Harold and Cellar Door are also chronicled.
Chapter 11 includes a previously unpublished in printed media 1985 interview, where "Frank talks with me about radio, his accomplishments, and his opinions," plus two short interviews with Dweezil Zappa and Howard Kaylan.
In 1985, Cerphe testified against record labeling on Capitol Hill, with Frank Zappa, Dee Snider, and John Denver.
Frank Zappa was a guest of my show bunch of times and one of the only people I allowed to smoke cigarettes in the studio with me. Choke me up, hey, he was Frank Zappa, if you wanna to chainsmoke, that was ok with me.
Bookshops