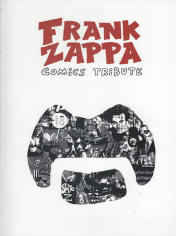 Frank Zappa Comics Tribute

Editions L'Œuf / Confrérie Intergalactique des Arts


2012 March
ISBN 9782913308404
106 pp, paperback, 24 x 18 cm
English
---
20 authors reinvent Zappa's life and music in comic strips – Thierry Alberti, Augel, Bé, Chester, Camille Déjoué, Darwin, LL de Mars, Bettina Egger, Holger Hürfeld, Masha Krasnova-Shabaeva, Lukas Kummer, David le Treust, Luis Luberti, Mandragore, Aleksei Nikitin, Phil, Thiriet, Rob Ross, Tofépi, Truk.
Preface by Christophe Delbrouck.
Includes Zappa Timeline by Ward Shelley.
Confrérie Intergalactique des Arts in May 18, 2012:
Hello our dear friends and admirers of Zappa from all over the world!

After several months of hard work, our book "Frank Zappa Comics Tribute" is finally ready to be sent by post! All members of the association C.I.A want to really thank You for your support, which has helped bring this marvelous book into the world.
We have two different versions of the comic book: in French and in English. As some of you might be bilingual, we would like to be sure about your choice. So please confirm by mail, which version (French or English) you would like to receive.
Homepage / bookshop
Other links