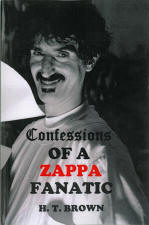 Confessions Of A Zappa Fanatic

HTB Publishing, Irwine, California


2013 February 13
ISBN 978-1481122115
152 pp, paperback, 22,5 x 15 cm
English
---
H. T. Brown:
Okay. You got me. I confess to be being a Zappa fanatic for a very long time. At the time of this writing it will be forty-six years to be exact. Frank's music has been one of the most important components in my life from the first time I heard Freak Out! in 1966, both musically and for steering me in the right direction politically and in a sense, socially. Though I'll admit that I was heading down that soon-to-be ostracized path of resistance before the Zappa prodding incident, but Frank seemed to be there encouraging me to do so, which was a welcome relief. Thank you, Frank Zappa.

I've been writing articles, along with conducting a few interviews about the man and his music for over twenty years. Some have been posted on several sites on the web that no longer exist, while others have been sent in private emails to friends.

You will not be regaled with the listing of endless concert dates, personnel and track listings, nor can I share intimate stories from our childhood together (it never happened). There will be no claims that I appeared on stage with the man, and I would be hard pressed to call him a friend. You will not find a chronological history of the Mothers of Invention nor intimate details of the many bands that followed. There will be no contextual analysis of anything. If you don't know who Wild Man Fischer is, you should read any number of the other Zappa books to catch up. This book is for the hardcores who have already garnered all of the available information about Frank past and present, and don't necessarily need to hear another version.

The stories found within are simply my personal reflections (or confessions if you prefer), of my adventures in and around the world of Zappa. And I have a few. Hope you enjoy them.
About the author:
H.T. Brown lives in Laguna Niguel, California with his wife (they were childhood sweethearts), and one of the largest Frank Zappa music and memorabilia collections in the world. He became a professional musician (drums), at the age of 16, and finished out his musical career by playing exclusively with Zoogz Rift from 1988 until his last project in 2001. In the interim he pretended to be an executive in the music industry working for Rhino Records for almost 20 years. While at Rhino he compiled Beat The Boots 1 & 2 for Frank Zappa, which resulted in the largest export sales the company had seen at the time. He is currently working on another book or two and prefers to be called "Tom".
Reviews
Customer Reviews @ amazon.com
New book: Confessions Of A ZAPPA Fanatic by H.T. Brown
idiotbastard.com
Bookshops
Source: slime.oofytv.set, Václav Pěnkava