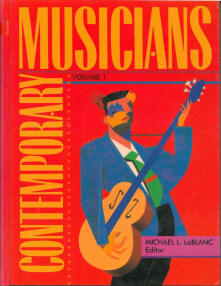 Contemporary Musicians
Profiles of the People in Music
Volume 1

Gale Research Inc.


1989
ISBN 0-8103-2211-0
ISSN 1044-2197
254 pp, hardcover, 28.5 x 22 cm
English
---
Provides comprehensive information on musicians and groups from around the world. Entries include a detailed biographical essay, selected discographies, contact information, and a list of sources.
This is the first edition, published in 1989. Later every year this book was updated and republished by different editors.
Source: slime.oofytv.set