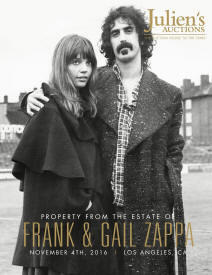 Frank And Gail Zappa Auction Catalog
Julien's Auctions, Los Angeles


2016 October
ISBN -
248 pp, paperback, 23 x 15 cm
English
---
This coffe table style printed book can be obtained at Julien's Auctions in October 2016. You can also download it for free as a pdf file. The book is definitely one of the best Zappa books ever, containing a lot of never before seen pictures for everybody interested in conceptual continuity.
During the Zappas' decades of touring the globe, they amassed a collection of exotic furnishings, fine antiques, salvaged architectural pieces, unique collectibles and whimsical items that appealed to their panache for colorful and non-conformist eye. The Property from the Estate of Frank and Gail Zappa auction will include many of the personal treasures that found their home at the fabled compound in California. These include a Venetian gilt metal chandelier; an Italian Baroque console table; and a carved gilt wood bookcase. Contemporary fine art to be offered includes a still life by John Alexander; a nail relief sculpture by Robert Harley; and a large painting by Ashley Laurence titled "Angel Pig," a name given by Gail Zappa.

The auction also includes memorabilia and personal items that document and celebrate the career of Frank Zappa and his love story with Gail. This includes a Dandies Fashions coat worn by Frank Zappa on the July 20, 1968 cover of Rolling Stone magazine; a purple ribbed turtleneck worn by Frank Zappa in 200 Motels (United Artists, 1971); a stage worn vest that Zappa also wore on the back cover of the 1972 album Waka Jawaka; a collection of career related awards presented to Frank Zappa including various Gold records, a National Academy of Recording Arts and Sciences Lifetime Achievement Award, and a GRAMMY® nomination plaque; a clay Thing-Fish model, a ukulele featured on the Thing-Fish album cover; and a collection of hotel keys collected by Frank and Gail in their travels.

This incredible collection of items is included in a marvelous coffee table-style book that presents the life and career of the iconic Frank Zappa through a visually captivating, full-color auction catalog.

Source: Javier Marcote