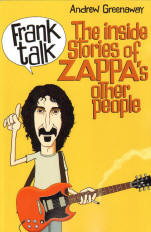 Frank Talk
The Inside Stories Of Zappa's Other People
Wymer Publishing


2017 July 25
ISBN 978-1-908724-67-0
384 pp, paperback, 15,5 x 23,5 cm
English
---
Following his highly successful previous book, Zappa The Hard Way, Frank Zappa specialist Andrew Greenaway's second tome on the influential cult artist is something completely different!

Frank Talk: The Inside Stories of Zappa's Other People is compiled from over 40 interviews Greenaway has conducted during the past three decades, with the people who knew and worked with the legendary composer and musician.

From Zappa's own family (including his eldest son, Dweezil), through to members of the Mothers of Invention (Jimmy Carl Black, Roy Estrada & Don Preston), his major discoveries (like Steve Vai, Warren Cuccurullo & Terry Bozzio) and the musicians who played in his last touring band (such as, Ike Willis, Scott Thunes and Mike Keneally).

Frank Talk gives an extraordinary insight into this musical genius that is piled on in layers. With Greenaway's recognised knowledge of Zappa this book will undoubtedly complement his previous title and be every bit as revered.
My second Zappa book (Frank Talk: The Inside Stories Of Zappa's Other People) is available NOW in paperback and on Kindle: the former includes caricatures of all the interviewees by the cover artist, Antero Valério, plus several photos and detailed footnotes – which are NOT available in the eBook version.
Zappateers - Frank Talk: The Inside Stories Of Zappa's Other People (new book)

Bookshops
Book Depository (worldwide free shipping)
amazon.co.uk
Wymer store