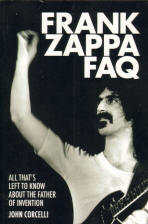 Frank Zappa FAQ: All That's Left To Know about the Father of Invention,

Backbeat Books


2016 August 1
ISBN 978-1617136030
328 pp, paperback, 23 x 15,5 cm
English
---
Good reading. This is a real book, not a compendium of web clippings like some other books in these days.
In this volume, author John Corcelli reveals Zappa's roots as a musician, from his diverse influences to his personal life. We also learn more about his former band members and the enormous musical legacy inherited by his son, Dweezil. The book features a juried examination of Zappa's recordings and his videos. It also features a complete discography and a recommended reading list. Each chapter has a special focus on Zappa's life, with sections covering his family, his home studio known as the Utility Muffin Research Kitchen his keen interest in the Synclavier (a device he first used in 1980), his guitars, and more. Special attention is paid to the Mothers of Invention. Frank Zappa FAQ is a must-have for fans new and old looking to delve into some of the best music ever made by one of the most innovative artists the world has known.
... So Mr Corcelli got the job. And a fine fist he has made of it too.
It's very well written indeed and touches all the right bases (though we had proposed to say more on Frank's scatological lyrics, his forays into advertising, and the Z kids). But there's nothing here that the hard-core FZ fan won't already know (except possibly that The Lost Episodes album, compiled before Zappa's death, was intended as a piss-take of the Beatles' Anthology - launched two years after his passing!).
For those not in the know, this gives a solid account of the man's life and work. But citing the book as the last word on Frank (bolstered by Ed Palermo's claim in his foreword that if any facts are wrong, he'd know) wasn't a wise move. As with most Zappa books, there are a number of factual (and a couple of spelling) errors - some minor (...), and some howlers (...). Of course there remains much more to learn about Frank, else IBS and the various Zappa fora would have shut up shop long ago. But my trifling observations aside, there is much to commend in these here pages.

Links
Review by idiotbastard
Review by Alun Hamnett @ Record Collector
Bookshops
Hal Leonard
Book Depository (worldwide free shipping)
Amazon.com