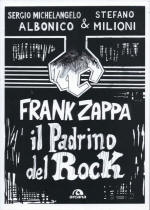 Frank Zappa. Il padrino del rock
Arcana Edizioni, Rome


2022 September 23
ISBN 978-8892771256
160 pp, paperback, 21 x 15 cm
Italian
---
This Italian-language book by American-bourne photographer Sergio Albonico and Italian journalist Stefano Milioni is a strong candidate for English translation. Sergio Albonico is also an important author with his photos in FZ88: A Visual Documentary.

Sergio Albonico
Photographer, keyboardist, journalist
Automatic translation: October 1987, Los Angeles, California. A young Italian photographer is hired to document the rehearsals and the first dates of "Broadway The Hard Way", the new tour of Frank Zappa, one of the most eccentric, inventive and controversial characters in the history of rock. For the occasion, Zappa puts on a twelve-piece band, chosen among the best in circulation in the United States, and conceives the show by providing four different programs to be presented in the different evenings: each musician will have to learn perfectly about 300 songs from his repertoire. A titanic undertaking, even for what many did not hesitate to call the best band ever had by the Italian-American composer and musician. The first concerts confirmed the relevance of the definition, but soon what would be Zappa's last tour before his death in 1993, unexpectedly turned into a story with an almost Shakespearean flavor, between misunderstandings and clashes of personalities. Il padrino del rock (The Godfather of Rock) tells the behind the scenes of that tour, offering a very unusual portrait of Zappa, his way of working and being, his struggle for freedom of expression and against the rules imposed by the majors. In the background, almost against the light, Los Angeles and the Hollywood of those years, with dreams and ambitions, but also falls, contradictions and countless fragilities and other encounters of ordinary madness or extraordinary normality, also real, with other great artists such as Jaco Pastorius, Joe Zawinul, Miles Davis, Russ Meyer, Mark Mothersbaugh.

SERGIO MICHELANGELO ALBONICO He was born in New York. He lives and works as a photographer between Rome, Prague and Nice.

STEFANO MILIONI He lives and works in Rome. He has published articles and short stories in various newspapers and magazines including "Frigidaire", "Rolling Stone", "Storie", "Left", "Africa", "Il Manifesto".
Links
Interview with Sergio Albonico @ idiotbastard.com
Sergio Albonico @ killuglyradio
Bookshops