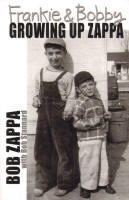 Frankie & Bobby
Growing Up Zappa

with Bob Stannard
CRZ Publishing


2015 September
ISBN 978-0-9964779-0-1
356 pp, paperback, 20 x 13 cm
English
---
It has been a long journey for me personally, and I hope you will enjoy reading about how Frank and I grew up and how we lived through a series of life-altering events.

My purpose in writing this book is to add my memories, thoughts, and experiences to the enormous body of information about Frank. The one difference is that what I have to contribute may help explain how Frank got to be the amazingly talented and highly intelligent person that the world has come to know. I have written about the times and circumstances that gave Frank the resolve that enabled him to grow intellectually, psychologically, and creatively. My book has stories that no other book has, including his autobiography.

If you thought you knew Frank from other sources, you will find that this book provides a new dimension to his unique personality. I hope you enjoy reading it.
Bob Zappa Talks About Frank Zappa (video)
Reviews
idiotbastard.com
The Manchester Journal
italian-americans.com
Bob Zappa @ zappateers
Bookshops
Book Depository (worldwide free shipping)
amazon.com