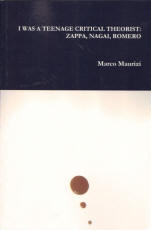 I Was A Teenage Critical Theorist:
Zappa, Nagai, Romero

Lulu Press, Raleigh


2012 2nd edition
ISBN: 978-1-84753-392-0
82 pp, paperback, 21 x 14,5 cm
Italian
---
This book results from my teenage fixation on monsters and mutations. If beauty is the trademark of oppression and order, deformity is the aesthetical precognition of revolution (monstrum means 'wonder', no less than 'horrible shape'). Monstrosity is a logic of disgregation, a way of naming the new; that's why revolution can find appropriate expression only in its open shape: Zappa's mutations, Romero's zombies, Nagai's robots. Contrary to Pomo populism, though, the author knows the difference between Art and Revolution, and investigates the possibilities of revolutionary art under capitalism, in an on-going confrontation with the perverse and polymorphous joys of his teenage heroes. Zappa, Romero and Nagai not only provide us with the central insight that phantasy is a way of seeing the world AS IT IS; they reveal the impotence of every Critical Theorist unable to take part in the event criticised.
This book has a preface by Ben Watson and was first published in 2007.
Essay "Zappa's 'Cheepnis' & the Poverty of Philosophy" by Marco Maurizi was included into Academy Zappa.
See also "Theses on ('bis er spritzt') Feuerbach".
Bookshops