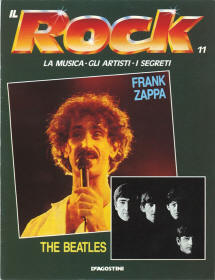 Il Rock. La musica - Gli artisti - I segreti.

De Agostini


1988-1989
ISBN –
1800+ pp, paperback, 29 x 23 cm
Italian
---
This rock encyclopedia was issued weekly in 1988-1989 as LPs and corresponding booklet fascicles (and even MCs), in total 110 (or 100?) issues in six volumes. Some LPs are compilations of best songs by one artist, while other are various artists collections divided by genre or topic.
In the same time De Agostini issued similar encyclopedia in Spanish – Rock. La música – Los interpretes.
Part of this book is based on publication The History Of Rock.
Frank Zappa was featured on the cover of issues ##10 and #11. The main article (8 pages) "Frank Zappa" started in #10 and continued in #11. Right thereafter comes "Captain Beefheart" - 2 pages.
Source: slime.oofytv.set