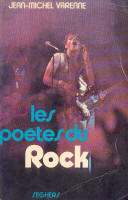 Les Poètes du Rock

Seghers


1975
ISBN 2232110605
ISBN-13: 978-2232110603
318 pp, paperback, 20 x 13 cm
French
---
Book about rock lyrics and authors.
"Speaking about Rock 'n Roll we must not only listen to the music, as it often happens. These lyrics are true poems, especially when written by Bob Dylan, Jimi Hendrix, Mick Jagger, Jim Morrison, Lou Reed or Syd Barrett."
Contains several bilingual lyrics samples, in English and French. Only one chapter is Zappa-related.
Translated into Spanish in 1979.
Source: -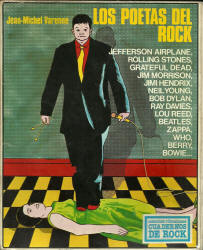 Los Poetas del Rock
Iniciativas Editoriales, Barcelona


1979
ISBN 84-7311-048-X
ISBN-13: 9788473110488
130 pp, paperback, 25 x 20 cm
Spanish
---
This book was published in a series of "Cuadernos de Rock" by the magazine Vibraciones.
Translation by Carmelo Hernando. Layout by Damián García Puig and Enrique Abad.
Source: Javier Marcote