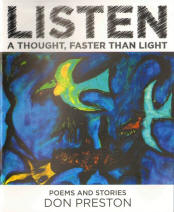 Listen... A Thought Faster Than Light

Brain Publishing, Los Angeles


2011
ISBN -
52 pp, stapled, 21,5 x 17,5 cm
English
---
This is a book of "poems and stories" written and illustrated by Don Preston. Only the cover painting is by Suzanna Schulten.
Especially interesting for Frank Zappa fans is "First meeting", describing how Don and Frank meet and jam together. Accompanied with a drawing of Zappa by Preston.
Read more about this meeting at Don's Garage by Román García Albertos.
Other links
Zappateers - Book by Don Preston
Bookshops
This book is available only directly from Don (Brain Publishing). Don says:
1. Go to www.paypal.com
2. Select SEND MONEY
3. Enter this address - donwpreston at yahoo dot com
4. Enter amount you wish to pay as well as payment method.
5. Press continue and follow prompts. Put your address in the note box. Paypal will send me an email telling me that you made a payment and I will send you an autographed book.
For USA the amount is 15 USD.
People in Europe can pay either 20 USD or 15 EUR (PayPal does money conversion).
In England you can pay 12 GBP.