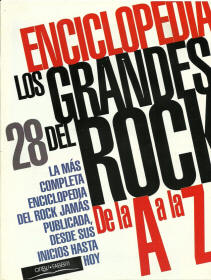 Los Grandes del Rock

Ediciones Orbis, Barcelona


1994
ISBN 84-402-1680-7 (complete set)
1600+ pp, hardcover, 29 x 23 cm
Spanish
---
This is the "most complete rock encyclopedia ever published", issued as 99 separate fascicles, afterward re-grouped as 5 books.
Here we present the fascicle #28, from Roberta Flack (from page # 433) to Foundations (to page # 448).
Javier Marcote:
In this issue # 28 was included the cd Frank Zappa - My Guitar ("officially approved" being a bootleg).
It could be that in the next issue # 29 were the pages dedicated to Frank Zappa and a different cd announcing what could appear in the next fascicle ... or perhaps [the Zappa pages appeared] at the end of the collection with those fascicles dedicated to the "Z".
I think to remember when the 1st issue was published I bought it and there was a compilation of different groups and perhaps one of the themes were The Mothers.
Source: Javier Marcote