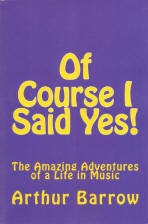 Of Course I Said Yes!

CreateSpace Independent Publishing Platform


2016 March 29
ISBN 978-1522979838
206 pp, paperback, 23 x 15,5 cm
English
---
Arthur Barrow shares stories of his life as a performer, composer, studio musician, and producer. He vividly describes his work with a wide range of artists including Frank Zappa, Giorgio Moroder, Robby Krieger of The Doors, Joe Cocker, Diana Ross, and many others. Zappa fans will be thrilled to have a look into Frank's creative process by someone who was actually there, and see the enormous effort made by his musicians to perform his astonishing and challenging music.
This book has 17 numbered, but untitled chapters. Chapter 4 to 11 are about period when Arthur Barrow co-worked with Frank Zappa.
Links/reviews
Arthur_Barrow - Wikipedia
Artur Barrow - facebook
I am Arthur Barrow! Ask me anything! : Zappa - Reddit
Interview - Groove - Episode #18: Arthur Barrow
Onetime Zappa Bassist Releases Memoir
Reviews at amazon.com

Bookshops