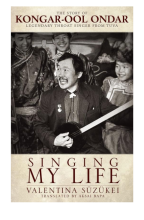 Singing My Life:
The Story of Kongar-ool Ondar, Legendary Throat Singer from Tuva
Smashwords Edition


2014 August 31
ISBN 9781311769084
160 pp, epub
English
---
This book, originally written in Russian, was translated to English by Aksai Bapa.
Chapter 15, eight pages, is "Meetings With Zappa". Kongar-ool Ondar met four times with Frank Zappa.
Valentina Süzükei takes readers on a journey through the life of legendary throat singer Kongar-ool Ondar. When he came onto the scene in 1989, Ondar was one of the pioneers of Tuvan throat singing in the West. Süzükei tells stories of his childhood, his first travels abroad, his collaborations with Frank Zappa, and his work on the Genghis Blues motion picture.
Links/Reviews
Bookshops