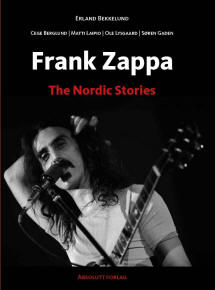 Frank Zappa - The Nordic Stories

Absolutt Forlag


2020 December 21
ISBN -
258 pp, hardback
English
---
The book is a collection of stories, interviews and anekdotes, accompanied by over 250 unpublished photos from the Mothers' first visit to Europe in 1967 right up to Frank's last ever tour in 1988. For hardcore fans, you will also find a lot of rare memorabilia, as the book contains set lists, ticket stubs, posters and much more. Here, the entire Nordic region is represented, each with its own chapter.
Erland Bekkelund at Norwegian Absolutt Forlag took the initiative. He has written the Norwegian chapter. Matti Laipio is responsible for Finnish, Sören Gaden and Ole Lysgaard for Danish. Cege Berglund, who saw the very first Zappa concert in the Nordic countries, has been responsible for the Swedish part.
The first edition in December 2020 was a limited printing of 300 numbered and signed copies. The second edition is expected to appear in February 2021.

Links
Facebook
Gaffa.se
Review by idiotbastard
Review by Jan-Erik Østlie
Bookshops