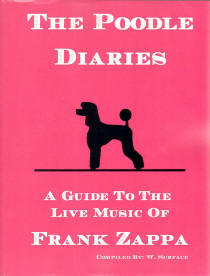 The Poodle Diaries
A Guide To The Live Music Of Frank Zappa
Createspace


2015 May 1
ISBN 978-1511510578
304 pp, paperback, 28 x 21,5 cm
English
---
"A guide to the live music of Frank Zappa. Including band members, discography, a listing of over 1900 shows, set lists, song statistics and more. Everything you need to know about the live music of Frank Zappa from The Mothers to the final tour."
This is print on demand book. The author is unknown. We know only, that from the same author another similar book is available – All You Need Is Live: A Guide to the Live Music of the Beatles.
All of this information is available on various sites online, but when the cloud evaporates and the interweb disappears, this will be a handy resource...
Links
Bookshops