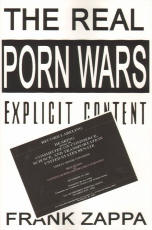 The Real Porn Wars
Gonzo Multimedia


2015 February 9
ISBN 978-1-908728-44-9
180 pp, paperback, 23,5 x 16 cm
English
---
This book starts with a preface by Tim Scott and contains transcript of the Senate hearings of September 1985, plus several additional articles and letters.
On September 19, 1985, Frank Zappa testified before the United States Senate Commerce, Technology, and Transportation committee, attacking the Parents Music Resource Center or PMRC, a music organization co-founded by Tipper Gore, wife of then-senator Al Gore. The PMRC consisted of many wives of politicians, including the wives of five members of the committee, and was founded to address the issue of song lyrics with sexual or satanic content. Zappa saw their activities as on a path towards censorship,and called their proposal for voluntary labelling of records with explicit content "extortion" of the music industry. This is what happened.
By the way, our own Gonzo Multimedia label carries a load of interesting books on the genre, most of which are more about placing music in the context of it's times, with socio and political commentary. One that I plan to read soon is Frank Zappa et al – The Real Porn Wars, which covers the maestro's fight against the puritanical "Parent's Resource Center" in the 1980's here in the states.
Bookshops
Gonzo Multimedia
Book Depository (worldwide free shipping)
Amazon.com

Reviews