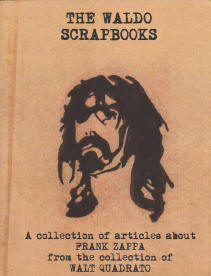 The Waldo Scrapbooks
A collection of articles about FRANK ZAPPA from the collection of WALT QUADRATO

SPB Publishing


2017
ISBN 978-1545304785
202 pp (unpaged), paperback, 28 x 21,5 cm
English
---
This unpaged paperback book without table of contents has a lot of scanned articles. Some of them you can find here in afka.net, some you can't. This book is strictly limited to 100 numbered copies
WHAT IT IS!
WHAT IT ISN'T!

THE WALDO SCRAPBOOKS is a collection of articles about FRANK ZAPPA, taken from the personal collection of Zappa uber-fan Walt Quadrato. Walt was turned on to Zappa in 1966 at the age of 16, when he came across a copy of FREAK OUT! in his local (Waterbury, CT) department store. He remained a loyal Zappa fan and hardcore collector until his death in 2015.

The collection of articles is contained in a collection of eight 12" at 12" boxes. consisting of (for the most part} photocopied articles from various publications, which were apparently sent to Walter from assorted fans and trading partners in the US and Europe. The assortment of articles is random, and spans the years 1967 through 1983. Walter also kept a large collection of Zappa-related magazines, but those have not been mined here.

While the articles were in good condition for the most part, time has occasionally not been kind to these pieces of loosely-stored paper. In some cases, I have had to mine the invaluable resource AFKA.NET for clean copies of articles included in the collection but not salvageable in the scanning process. [...] In a few cases, the articles were unavailable elsewhere and I have done as much restoration as was possible.

My thanks go to the following folks: Joe Travers, Michelle, Kayleigh, my Mom and the extended Parker family, Elaine, Tom and the extended Brown family, Brenda, Alex, Justice. Christa and to all my Zappa amigos everywhere, the Zappateers in particular without whom NONE of my work is possible.
spbpublishing.webs.com
New FZ books coming ...
Zappa Books at gandsmusic.com