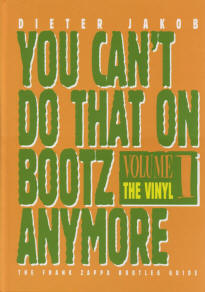 You Can't Do That On Bootz Anymore
Volume 1 The Vinyl

Dieter Jakob


2007
ISBN –
500 pp, hardcover, 30 x 21,5 cm
English
---
This high quality book is superior to any other Zappa bootleg overviews! Compiled and privately released by a long-time Zappa collector Dieter Jakob in Germany. It's a limited edition of 100 numbered copies printed on high quality paper, 500 pages almost all in full color and in hardcover.
Next Volume 2 - You Can't Do That On Bootz Anymore - The CDs.
Dieter Jakob 2007/06/09:
After almost ten years of work Ive finished - with the help of many friends - the book You Cant Do That On Bootz Anymore - The Vinyl, a book about the unofficial music of Frank Zappa. Since a few days it is ready to be printed. Some technical facts in short:

500 pages A4 (large format, about 8.2 by 11.7 inches), almost all pages full coloured. Hardcover with thread sewing. Digitally printed on special high quality paper (paper used for illustrated books) More than 3600 (!) photos from covers, label, vinyl (LPs and singles), booklets, other details, etc. about more than 300 different titles (vinyl only!)
Take it from me. If you're a Zappa vinyl bootleg fetishist, you really want to browse this book. I picked up Dieter Jakob's vinyl bootleg bible at the post office yesterday, and I can only say one thing: this is the best looking and most informative book that I have read in years.
Lots and lots of data (incuding matrix numbers !!) and great pictures of sleeves, labels and vinyl.